Halfway through the Champions League group stage and only Borussia Dortmund, Barcelona and Juventus (without much help from Cristiano Ronaldo so far) seem to be serenely heading towards the real hostilities in February.
The good news is that 2018-19 seems unusually rich in sub-plots and subtle narratives, and here are just a few of them.
Blank Ronaldo
The last season in which Cristiano Ronaldo scored fewer than 10 goals in the Champions League was 2010-11. Heading into matchday four he is yet to net for Serie A champions Juve, hampered of course by his suspension which meant missing the clash with Young Boys on matchday two.
| Ronaldo's team | Autumn | CL goals in Sep/Oct |
| --- | --- | --- |
| Manchester United | 2008 | 0 |
| Real Madrid | 2009 | 4 |
| Real Madrid | 2010 | 1 |
| Real Madrid | 2011 | 1 |
| Real Madrid | 2012 | 5 |
| Real Madrid | 2013 | 7 |
| Real Madrid | 2014 | 3 |
| Real Madrid | 2015 | 5 |
| Real Madrid | 2016 | 2 |
| Real Madrid | 2017 | 5 |
| Juventus | 2018 | 0 |
Even so, it means he goes into November without a Champions League goal for the first time since his final season with Manchester United, when he appeared in five group games without scoring, before waking up in the spring as United progressed to their second successive final.
So far in 2018-19, Ronaldo has an expected goals (xG) figure of 0.25 in 119 minutes of Champions League football and, in showreel terms, brought an exquisite save from David de Gea at Old Trafford.
Ronaldo v Dybala in front of goal
Ronaldo
Dybala
Shots
5
10
Shots on target
2
6
Expected goals
0.248
3.253
Actual goals
0
4
His team-mate Paulo Dybala, in contrast, has had chances with an xG of 3.25 in 168 minutes, the highest figure in the competition this season, so it's not like Juventus aren't serving up quality.
All of which begs the question: is this just a bad autumn for Ronaldo, or is this Ronaldo's autumn?
Firmino - Brazilian's goals maths adds up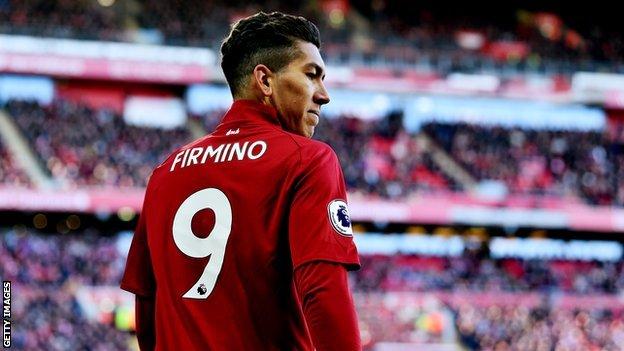 The Liverpool transfer committee's decision to buy Roberto Firmino might just be working out.
Since the start of last season he has scored or assisted 19 goals in the Champions League, more than any other player in that period and three more than Manchester United have scored.
Just his basic goal total of 12 in barely 14 months is as many as the combined might of Diego Maradona and Bobby Charlton managed in the European Cup.
Yes, those players from older generations got fewer opportunities in a more streamlined competition, with the go-to example here always: Titus Bramble has played as many European Cup/CL games as Maradona.
But once you've got a taste for Firmino maths it's hard to let go, so here are some more sums: Firmino's 12 European Cup goals for Liverpool are as many as Michael Owen + Pep Guardiola ever scored, or Just Fontaine + Vincenzo Montella, or just Everton Football Club, or Philippe Coutinho + Kevin Keegan, or Dennis Bergkamp + Ruud Gullit.
I mean, I could go on...
Sancho the noughties player to beat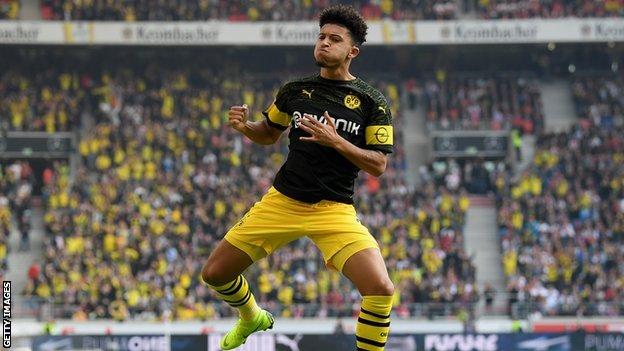 Jadon Sancho's footballing recreation of Auf Wiedersehen, Pet - a 1980s TV series that told the story of Englishmen forced to seek work in West Germany due to a lack of opportunities at home - has come into sharp focus in the Champions League.
It's all very well becoming one of the most effective players in the Bundesliga, especially if you are younger than Napster, but maintaining that level in Europe is seriously impressive.
How good is Sancho? Well, as the first bona fide representative of the 2000s/noughties/aughts in the Champions League, his current goals-plus-assists per 90 minutes rate of 1.10 compares pretty well to the best such player born in the 1990s (Neymar 1.03) and the 1980s (Lionel Messi, obviously, with 1.13).
Those two have been doing it much longer, of course, but you can't swap even 10 Ballons d'Or for youth and, along with all the other stuff, that's the resource Sancho has in spades.
Sancho in good company?
Player
Date of birth
CL goals+assists/90 minutes
Jadon Sancho
25/03/00
1.10
Neymar
05/02/92
1.03
Lionel Messi
24/06/87
1.13
Are Spurs doomed?
Losing to Inter and Barcelona in the first two matchdays was the nightmare scenario for Tottenham but a double header with PSV Eindhoven in the middle of the group stage was a chance to recalibrate, until a 2-2 draw - handed to their Dutch hosts by Hugo Lloris - extended Spurs' winless European run to a club record five games.
However, the history of English clubs progressing despite terrible starts in the Champions League is strangely positive, with three of the five teams to take one (or zero) points from their opening three group games making it through to the next round.
Take a bow Newcastle 2002-03 (quick summary: Andy Griffin defeats Juventus), Arsenal 2003-04 (quick summary: Andy van der Meyde defeats the Invincibles… but it's ok, for a bit) and Liverpool 2007-08 (quick summary: it turns out Besiktas are better at home than away) who all made it through from a similarly bad position.
None of them had to go away and win at the Nou Camp, though.