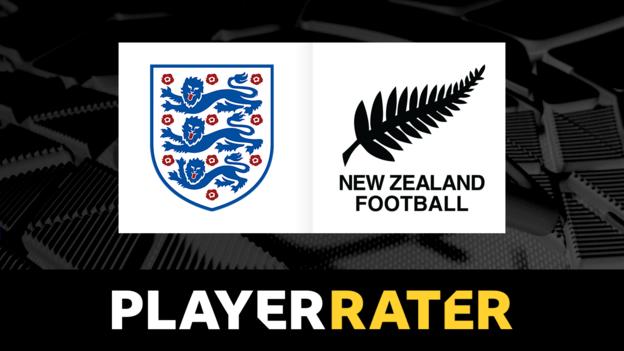 England are currently taking on New Zealand in their final warm-up game before the Women's World Cup.
How do you think the players are performing?
You can rate their display out of 10 using our Player Rater tool below.
Check back 30 minutes after full-time to see the final ratings.
How to play
Rate players out of 10 throughout or after the game. The rater will close 30 minutes after the final whistle.
Rating range key
= Give it up
= Pure perfection
England Women
Squad number

13

Player name

Telford

Squad number

2

Player name

Bronze

Squad number

5

Player name

Houghton

Squad number

15

Player name

McManus

Squad number

3

Player name

Greenwood

Squad number

23

Player name

Staniforth

Squad number

4

Player name

Walsh

Squad number

7

Player name

Parris

Squad number

10

Player name

Kirby

Squad number

11

Player name

Duggan

Squad number

9

Player name

Taylor
No players have been substituted yet
New Zealand Women
Squad number

1

Player name

Nayler

Squad number

6

Player name

Stott

Squad number

5

Player name

Moore

Squad number

8

Player name

Erceg

Squad number

7

Player name

Riley

Squad number

4

Player name

Bott

Squad number

2

Player name

Percival

Squad number

14

Player name

Bowen

Squad number

12

Player name

Hassett

Squad number

13

Player name

White

Squad number

11

Player name

Gregorius
No players have been substituted yet