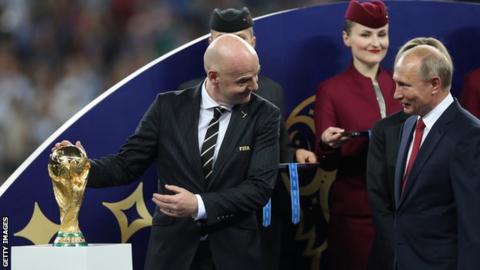 Players involved in any European Super League would be banned from playing international football, including the World Cup, says Fifa president Gianni Infantino.
German publication Der Spiegel claimed top European clubs held secret talks to create a such a set-up by 2021.
The news magazine said leaked documents revealed clubs' plans to leave their national leagues and associations.
Infantino said it was Fifa's duty to "protect football".
He also said Fifa's own plans for a Club World Cup was "the answer to any attempt to break away from the leagues" because it would "generate much more revenues for the clubs but also much more revenues for solidarity".
"We have seen for many years these attempts to break away outside of the structures, going back to the 1990s," he added.
"You are either in or you are out. If there are players who don't play organised football then that encompasses everything - national leagues, confederation competitions, the Euros and the World Cup.
"It is up to us to protect football and come up with solutions that benefit clubs and also the world football community."
'We saved the system'
Der Spiegel also said the documents it obtained showed Manchester City and Paris St-Germain overvalued sponsorship deals to help meet Uefa's Financial Fair Play rules.
It alleged that in 2014 the clubs negotiated with Infantino, who was then general secretary of Uefa, to agree reduced punishments.
City have said they will not be commenting on the claims. Paris St-Germain have been contacted for a response.
Addressing the claims, Infantino said: "We were doing our job and saved the system and we saved European club football.
"We worked with the information we had at the time. If new information has come out, I'm sure Uefa will look at it."