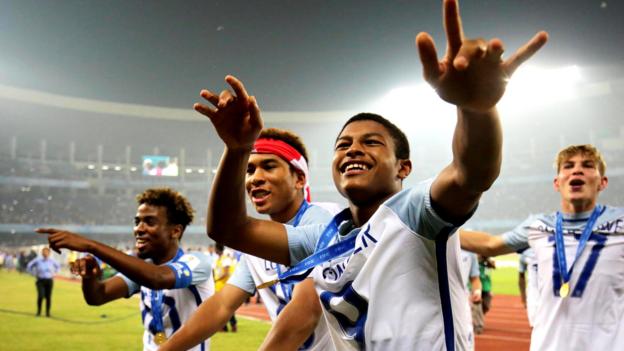 England Under 17s' World Cup win crowned a phenomenal year for the nation's under-age teams in elite tournament football.
Four years ago, England's senior team were given the target of winning the World Cup in 2022 by then Football Association chairman Greg Dyke, who was "laughed at" for the suggestion, according to former international defender Danny Mills.
That aim was later softened to simply being competitive in Qatar, but BBC Sport asks... should it be back on the table?
Here's some factors to consider:
This record...
Four age groups across five tournaments - 34 games played with an 88.2% win percentage and their only defeats on penalties. And a goal difference of +62.
No other nation has won three major youth tournaments in the same calendar year.
Brazil are the only other side to have been under-20 and under-17 world champions in the same year - in 2003.
England v major European rivals at major tournaments in 2017
England
France
Germany
Italy
Spain
Under-17 World Cup
Winners
Round of 16
Quarter-finals
DNQ
Losing finalists
Under-17 Euros
Losing finalists (penalties)
Quarter-finals
Semi-finals
Group stages
Winners
Under-19 Euros
Winners
DNQ
Group stages
DNQ
DNQ
Under-20 World Cup
Winners
Round of 16
Round of 16
Semi-finals
DNQ
Under-21 Euros
Semi-finals (penalties)
DNQ
Winners
Semi-finals
Losing finalists
Some of these players...
And others to watch - with U20s boss Paul Simpson
Mason Mount, 19, Chelsea. Player of the tournament as England U19s won the European Championship in July.
Reiss Nelson, 17, Arsenal.
Jadon Sancho, 17, Borussia Dortmund. Signed from Manchester City for £10m. Only released for the group stage of the U17 World Cup.
Phil Foden, 17, Manchester City.
Pundit opinion
Danny Mills, former England defender: "This group of players now - of a mix of five or six years from under-17 to under-21 - well 2022 might be too early. But 2026 - why not? Realistically we've seen that this group of players will mature at that sort of age for the tournament."
Trevor Sinclair, former England midfielder: "It may seem that we are closer to success. But it's the next two or three years of these players' development which is critical. If they are not getting the opportunity to play, it's not likely. If they are then yes, why not?
"They are the best at this age group, they have shown that consistently this year. They are there or thereabouts so why shouldn't the World Cup in 2022 be a realistic goal?"
England U20s manager Paul Simpson, talking to BBC Sport: "The players who won the U20s this summer, in five years' time they may be ready to go to a World Cup. It is still the target. We'd be delighted if we get success in 2018 - but we are looking at 2022.
"We have to change people's perceptions. We want to inspire a nation by being successful. Our country know that we have good players but the rest of the world doesn't give us the credit we deserve. The U20s and the U17s are doing that. You heard people saying that against Brazil [in the U17s semi-final] it was as if the players had swapped shirts. We want to keep that going so next year is the same, and the year after.
"We have to celebrate success. It is difficult to balance. You have to keep humility because we have a long way to go. Germany and Spain have done it for a long time and there is nobody at St George's Park or Wembley sitting back in their chair thinking it's job done. I can assure you of that.
"We have a lot of work to do. If it's 2018 or 2022 when we get a senior team successful then fantastic - but then the challenge is to stay there."
The 'England DNA' and St George's Park
Simpson explained the set-up to BBC Sport:
England elite teams are based at St George's Park in Burton. It cost about £120m to build, is five years old and is overseen by the FA's technical director Dan Ashworth.
"Consistent identity" through all age groups to build from the back, dominate possession with a purpose, to be attacking and have good individual players.
"Incredible" investment into the teams, with 18 staff in South Korea for the U20 World Cup for a squad of 21 players.
Weekly coaches' meetings with England senior manager Gareth Southgate - the first time the approach has been wholly joined up from U15s to senior team
Club academies credited for producing better technical players while keeping traditional English physicality and athleticism
"I don't think this crop is more talented than before," says Simpson. "We have had excellent players come through but there hasn't been the consistency and the chance to get to a major final. Now they are getting those chances.
"We are getting to finals, they have been through penalty shootouts and we hope that experience stands them in good stead for the seniors further down the line."
But what about the minutes?
The big debate is around game time for young English players - especially in top-flight matches, gaining European experience and breaking into the starting XIs of the 'top six' Premier League clubs.
Last season, England Under-21 squad players played just over 20,000 minutes of top-tier football - 17,000 fewer than their Spanish counterparts. Germany's youngsters played just over 31,000 and Italy's just short of 30,000.
For example, the number of England-qualified players starting in the Premier League this season is 32.4%.
During the October international break, BBC Sport reported that England's Under-21 players are playing less top-flight football this season than their Spanish, German and Italian counterparts - something U21 boss Aidy Boothroyd called a "killer stat".
Under 17s: Eight players have made competitive starts this season, with Fulham's Steven Sessegnon playing three full games in cup competitions and contributing almost half the total minutes played of the entire squad. Only Jadon Sancho - with six Bundesliga minutes for Dortmund - has appeared in a top-flight match.
Under 19s: Most of the minutes played for the U19s squad come in the Championship, League Two and domestic cup competitions. Just 3.4% had been top-flight football.
Under 20s: The England World Cup-winning squad play more football than Italy, who they beat in the semi-finals, but Dominic Calvert-Lewin's Everton appearances made up 62% of the entire squad's total Premier League minutes.
Under 21s: England Under-21 players had played 49% of the total top-flight minutes of their Spanish opponents, 58% of the Germans and 67% of the Italians.
Any other pitfalls?
Trevor Sinclair, former West Ham, Manchester City and QPR winger
"They need to be going out on loan, playing games. The learning curve is so much steeper and it would benefit them. Within their age group they are the best in the world - but they need to kick on.
"What other pitfalls do they have? Wealth. They are rewarded so soon. They will be sought-after players, they have produced the goods. Look at Sancho going to Dortmund. That is a dangerous situation that is occurring. We don't want to be losing our best players.
"It may seem we are closer to success - but it's the next two or three years of these players' development which is critical [so] they get that vital experience of dealing with nerves, of dealing with faster, stronger players who think quicker. It's all stuff you need to learn."