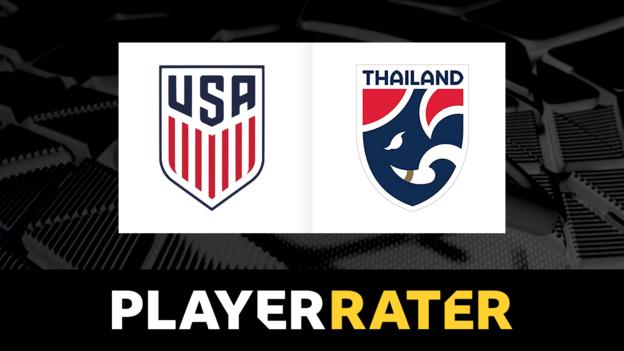 USA are playing Thailand in their Women's World Cup opening Group F game.
You can follow the game live here. And you can rate the players out of 10 below...
How to play
Rate players out of 10 throughout or after the game. The rater will close 30 minutes after the final whistle.
Rating range key
= Give it up
= Pure perfection
USA
Squad number

1

Player name

Naeher

Squad number

5

Player name

O'Hara

Squad number

7

Player name

Dahlkemper

Squad number

8

Player name

Ertz

Squad number

19

Player name

Dunn

Squad number

16

Player name

Lavelle

Squad number

9

Player name

Horan

Squad number

3

Player name

Mewis

Squad number

17

Player name

Heath

Squad number

13

Player name

Morgan

Squad number

15

Player name

Rapinoe
Squad number

2

Player name

Pugh

Squad number

10

Player name

Lloyd

Squad number

23

Player name

Press
Thailand
Squad number

18

Player name

Chor-Charoenying

Squad number

9

Player name

Phetwiset

Squad number

3

Player name

Chinwong

Squad number

2

Player name

Saengkoon

Squad number

10

Player name

Srangthaisong

Squad number

21

Player name

Sung-Ngoen

Squad number

20

Player name

Boothduang

Squad number

5

Player name

Phancha

Squad number

12

Player name

Thongsombut

Squad number

7

Player name

Intamee

Squad number

8

Player name

Nildhamrong
Squad number

6

Player name

Khueanpet

Squad number

13

Player name

Srimanee

Squad number

17

Player name

Dangda