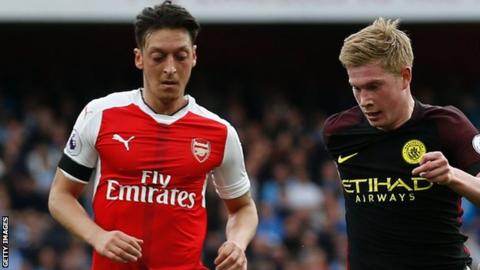 Winning football matches tends to be about scoring goals.
They can come from anywhere - long range or short, 40 yards or two yards, sometimes the 12 yards of the penalty spot. Or not, if you happen to be Liverpool.
For a goal to be scored, someone has usually done the hard yards beforehand. The creator. The common consensus is that Kevin de Bruyne is the Premier League's king of creating chances, but there is a pretender to the throne.
To hit the back of the net, you're probably going to make an attempt on goal. Someone needs to tell Swansea City.
All this and more is revealed in the best of the statistics from the weekend's Premier League action.
Ozil v De Bruyne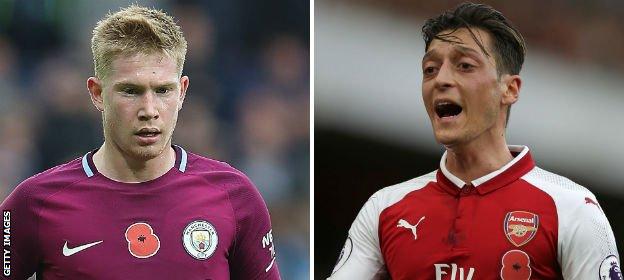 One is apparently such a shoo-in for PFA Player of the Year that the wife of a former player at his club has felt confident enough to bet a naked conga around a Stockport car park on the result of the poll.
By contrast, the other has been roundly criticised by his club's old boys in the media.
But how much difference is there between Manchester City's De Bruyne and Arsenal's Ozil?
The pair have both created a league-leading 30 chances for their teams, despite Ozil having spent considerably less time on the pitch.
Fewer of the chances that Ozil has created have been converted by his Arsenal team-mates, but otherwise the Germany playmaker stacks up well against De Bruyne in the pair's attacking stats.
On attack...
Mesut Ozil
Kevin de Bruyne
568
Mins played
841
1
Goals
1
2
Assists
6
30
Chances created
30
8.33%
Shot conversion
4.55%
86.3%
Pass accuracy
86%
But Ozil's work without the ball does not stand up to comparison as well.
Even considering the longer time that De Bruyne has spent on the pitch, the City attacker has got more involved in his side's defensive duties.
...but on defence
Mesut Ozil
Kevin de Bruyne
6
Tackles
16
5
Interceptions
8
25
Recoveries
61
Fox in the box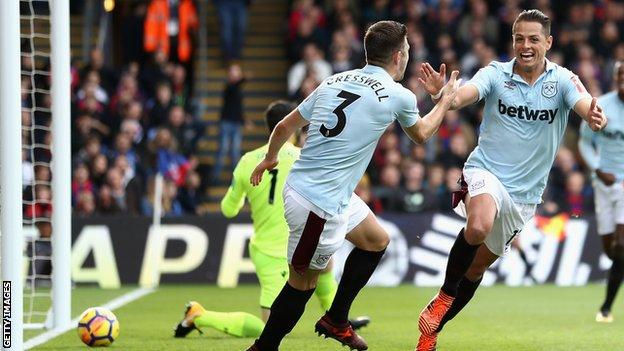 Javier Hernandez doesn't bother with scoring from long range.
In fact, his opening goal in West Ham's 2-2 draw at Crystal Palace was his 41st in the Premier League, all of which have been scored inside the 18-yard box.
In maintaining that close-range record, Hernandez remains alongside two other players who scored all of their goals inside the penalty area - Tim Cahill (56) and John Terry (41).
In the cases of Cahill and Terry, the slim chance of them playing in the Premier League again suggests that their records will remain intact.
Premier League goals scored in the box
Player
Goals
Goals inside box
Percentage
Tim Cahill
56
56
100%
John Terry
41
41
100%
Javier Hernandez
41
41
100%
Ruud van Nistelrooy
95
94
99%
Kevin Campbell
83
82
99%
Dwight Yorke
123
121
98%
Steven Fletcher
53
52
98%
Yakubu
95
93
98%
Jamie Vardy
47
46
98%
Jonathan Walters
43
42
98%
Not much further down the list, two Manchester United legends are revealed to have a penchant for the tap-in.
Of Ruud van Nistelrooy's 95 Premier League goals, 99% came inside the 18-yard box, while 98% of Dwight Yorke's 123 strikes came from similar range.
Paying the penalty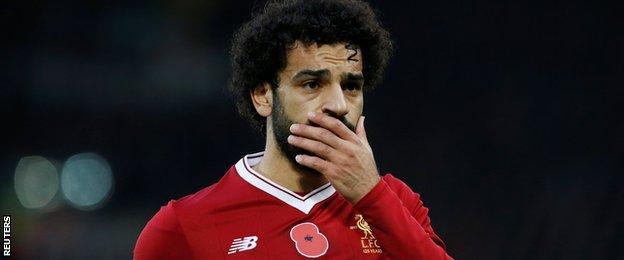 When Mohamed Salah had his penalty saved by Huddersfield keeper Jonas Lossl, he joined a long line of Liverpool players to have wasted opportunities from the spot in the Premier League era.
In fact, a 34th failure from 12 yards put Liverpool joint top with Arsenal as the most wasteful penalty takers.
Unsurprisingly the top of that list is dominated by the clubs that have spent most time in the Premier League - Liverpool, Arsenal, Manchester United, Tottenham, Everton and Aston Villa.
With that in mind, Chelsea's record of only 18 failed penalties from 125 attempts is pretty impressive.
Less so are the numbers of Sheffield United, West Bromwich Albion, Queens Park Rangers, Norwich City, Ipswich Town and Wimbledon.
Of clubs to have been awarded at least 10 penalties, these six have the highest percentage of spot-kicks missed or saved.
All-time worst Premier League penalty records
Club
Penalties
Missed/saved
% Not scored
Minimum 10 penalties taken
Sheff Utd
11
5
45%
West Brom
40
15
38%
QPR
19
7
37%
Norwich City
21
7
33%
Ipswich Town
21
7
33%
Wimbledon
15
5
33%
Near-perfect 10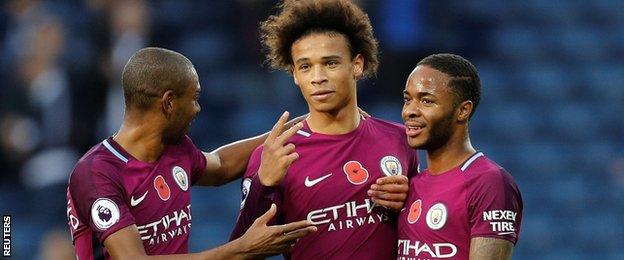 The greatest team in Premier League history?
Ten games into the season, it is too soon to say that about Manchester City. But it is also too early to say they aren't.
Their 3-2 victory over West Brom on Saturday means they have made the best start to a Premier League season after 10 games.
The only other two teams to match their record of nine wins and a draw from the opening 10 games were Roberto Mancini's City side of 2011-12 and Chelsea in 2005-06, the second season of Jose Mourinho's first stint in charge.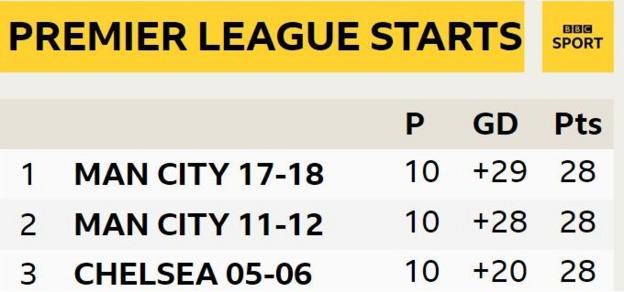 Both went on to win the title, although the City class of 2012 required Sergio Aguero's 95th-minute winner against QPR on the final day to hold off Manchester United.
The eventual champions are not always the early front-runners though.
En route to their first Premier League title in the 1992-93 season, Manchester United had collected only 18 points and were fourth in the table.
In the 2002-03 season, Sir Alex Ferguson's side had the same total and were fourth again.
On each occasion they collected the title in May.
(Whisper it but) football did exist pre-Premier League and Manchester United won their opening 10 games in 1985-86, holding a nine-point lead over Liverpool.
And it was Liverpool who won the title in May 1986, as they pipped Everton to a league and FA Cup Double. United were only fourth.
Finishing champions after taking only 18 points from the first 10 games might give hope to Manchester United, Chelsea, Tottenham and Arsenal - all of whom have exceeded that tally.
However, given City's flying start, only local rivals United are within the record six-point deficit has been reeled in in previous seasons.
A two-horse one-city race already?
Hardest working man in showbusiness
Monday night's game at Turf Moor was more about graft than glamour, so it is fitting that Burnley's midfield is host to the hardest working man in the Premier League.
Jack Cork, who played a key part in the game's only goal as the Clarets marked Sean Dyche's fifth anniversary with a win at home to Newcastle, has covered 121.13km in the league so far this season, more than any other player.
Distance covered in Premier League games 2017-18
Player
Distance covered (KM)
Player
Distance covered (KM)
Jack Cork
121.13
Tom Carroll
113.71
Abdoulaye Doucoure
118.59
Christian Eriksen
113.65
Pascal Gross
117.63
Hector Bellerin
113.32
Dele Alli
116.56
Jordan Ayew
112.95
Nemanja Matic
116.20
Tom Cleverley
112.50
Dale Stephens
115.86
Marcos Alonso
112.12
Granit Xhaka
115.31
David Silva
111.47
Davy Propper
114.52
Aaron Mooy
110.68
Wilfred Ndidi
114.06
Matt Ritchie
110.62
Jay Rodriguez
113.93
Andrew Surman
110.26
If you were wondering, that's just shy of the distance between Turf Moor and Stoke City's bet365 Stadium.
Watford midfielder Abdoulaye Doucore is next in the list, while perhaps surprisingly Manchester City playmaker David Silva is well up there.
His combined distance of 111.47km would see him dribble from the Etihad to York city centre.
Shot-shy Swans sinking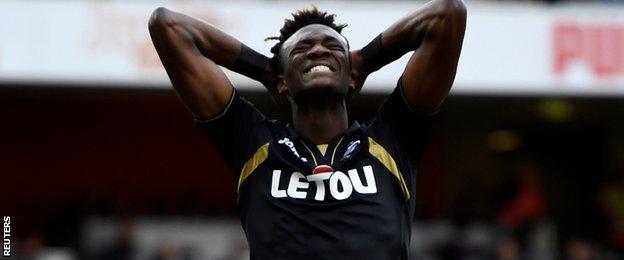 If you don't buy a ticket, you can't win the raffle.
In footballing terms, it's difficult - almost impossible - to win matches without having attempts on goal. Ideally, those attempts would be on target.
For Swansea City, a tally of only seven goals is explained by a place at the bottom of the pile in terms of both total shots and shots on target.
Even the teams that have scored fewer goals than the Swans, Bournemouth (six) and Crystal Palace (four), have done so by having plenty more attempts on goal.
Bournemouth's 92 attempts is the 14th highest in the top flight, while bottom-club Palace are incredibly placed seventh with 133 attempts - they only managed to score in the eighth game of the season.
Swansea? Of their 76 shots on goal, only 20 have troubled goalkeepers. Even if they all had gone in, the Swans would still not have scored as many goals as Manchester City and Manchester United.
Creative defenders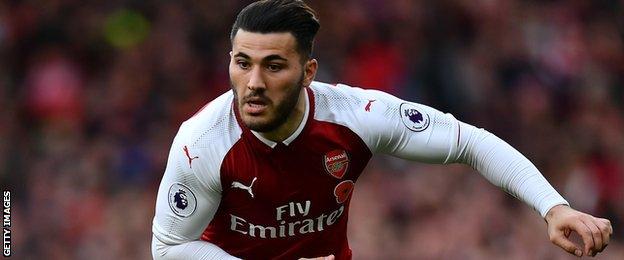 However, Ozil is not Arsenal's most creative player this season.
Instead that is a full-back they picked up on a free transfer in July.
With three goals and three assists, Sead Kolasinac has had a hand in more goals in all competitions for Arsenal this season than any other player.
Most creative defenders in the Premier League this season
Goals
Assists
Cesar Azpilicueta
1
4
Ben Davies
2
2
Kieran Trippier
0
4
Kyle Walker
0
4
Sead Kolasinac
1
3
But all those players have a long way to go to catch up with the defenders who have been most effective at the opposite end of the pitch in the Premier League era.