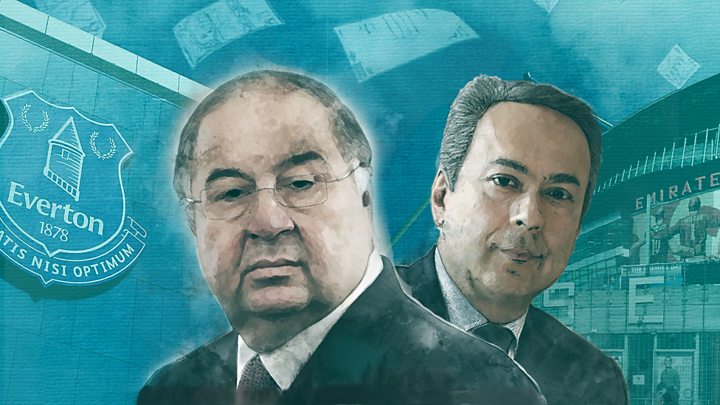 Questions have been raised in the leaked Paradise Papers about who controls Everton FC and whether Premier League rules have been broken.
Farhad Moshiri sold his Arsenal stake in 2016 to buy nearly 50% of Everton.
But the leaks suggest his original Arsenal stake was funded by a "gift" from oligarch Alisher Usmanov, who owns 30.4% of Arsenal, raising the question of whether his money is now in Everton.
Mr Moshiri strenuously denied the money was a gift.
Lawyers acting for him in the Everton deal said any allegation Premier League rules had been violated were wholly false.
They say Mr Moshiri is independently wealthy and funded the football investments himself.
Mr Usmanov's legal representatives said there were errors in the allegations and that the investigation was a gross intrusion into their client's privacy.
Premier League rules state an individual who owns a stake of 10% or more in one club cannot hold a single share in another, to avoid any conflict of interest, including in games between the clubs and in transfers.
Officially Mr Usmanov and Mr Moshiri, the oligarch's former accountant, bought a 14.58% stake in Arsenal together in 2007 through an offshore company called Red and White Holdings.
But the documents show that all the funds for the purchase of the Arsenal shares came from a firm called Epion Holdings, a company wholly owned by Mr Usmanov, who is currently said to be worth about $15.8bn (£12bn).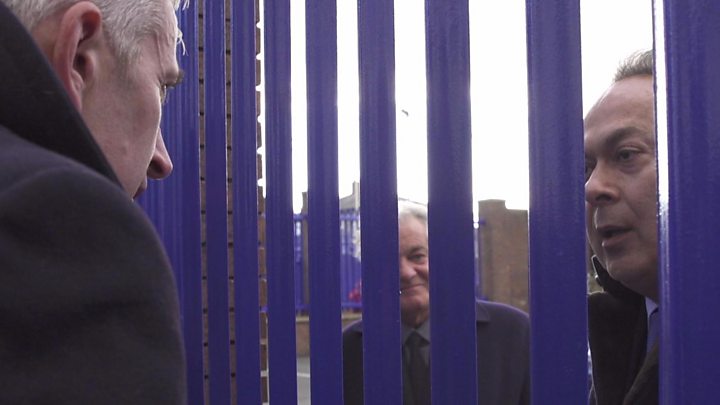 One document reads: "Dividend from Gallagher Holdings to Alisher Usmanov who will then gift the monies to Moshiri who will in turn invest in the company. Funding for Red and White has come from Epion Holdings Limited".
Gallagher Holdings is also an Usmanov company.
SOURCE DOCUMENT
Lawyers acting for Mr Moshiri originally denied that the money had come from Epion.
They later admitted the initial funding had come from Epion, but said Mr Moshiri had subsequently paid Mr Usmanov back.
Red and White Holdings continued to raise its stake in Arsenal, reaching 30.4%.
In February 2016, Mr Moshiri sold his half of the Arsenal shares to the Russian oligarch.
A document in the Paradise Papers from Appleby, the firm overseeing due diligence on the deal, confirms the sale was used to raise funds to buy a 49.9% stake in Everton. The reported price was £87.5m.
A Russian media company with close links to Mr Usmanov initially reported the Everton deal as "Russian businessman Alisher Usmanov has become the new owner of Everton". The report was soon taken down but suspicions were aroused.
The suspicions rose further this January when it was announced Everton's training ground, Finch Farm, was now being sponsored by Mr Usmanov's company, USM Holdings. The training ground has been renamed USM Finch Farm.
When BBC Panorama approached Mr Moshiri and asked him whether Mr Usmanov was in control of Everton, he asked: "Are you crazy? Have you seen a psychiatrist?"
He said: "If it is a loan, you owe the money back to him. If it is a gift, it is yours. It is neither of them because I paid for it."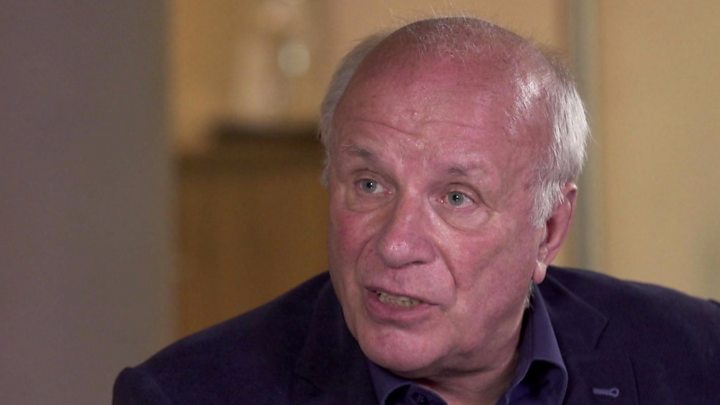 Mr Moshiri later said that all the documents that mentioned a gift were "a mistake".
Mr Moshiri's legal representatives said the Premier League had carried out checks, including on its funding, and was satisfied that he had complied with its Owners' and Directors' Test.
They also said that Mr Moshiri, who is listed by Forbes to be worth $2.4bn, had subsequently provided considerably more finance to Everton.
Former FA chairman Greg Dyke told Panorama that a gift "sounds unusual", adding: "If these papers say what you say they say, I feel sure that the Premier League will want to do their own investigations."
The outcome of any investigation would depend on what the two men did and what the clubs knew.
When asked about the matter, the Premier League said it "would not disclose confidential information about clubs or individuals".
The Everton deal was administered by Isle of Man company Bridgewaters Limited.
Other documents in the Paradise Papers suggest that Bridgewaters was secretly taken over by Mr Usmanov in 2011. This is strongly denied by Bridgewaters and Mr Usmanov.
Blue Heaven Holdings, the company that owns Everton, has its registered office at Bridgewaters and its two directors are an employee of Bridgewaters and an employee of Mr Usmanov's company, USM Holdings.
---
Who is Alisher Usmanov?
Born in Uzbekistan in 1953, Russian citizenship
Dubbed the "hard man of Russia", made his initial fortune in plastics, mining and metals
Has diversified in recent years, with major investments in social media, mobile phones and publishing
Owns a 30.4% stake in Arsenal FC. Massive philanthropic donor
Was convicted and jailed in the Soviet Union in 1980 of fraud and stealing state property but the Uzbek Supreme Court overturned the ruling in 2000, saying the evidence was fabricated
Fiercely defends his reputation. Sued opposition leader Alexei Navalny over allegations of bribery, and offered free mobile phones for the best memes mocking him
A Muslim who in 1992 married rhythmic gymnastics coach Irina Viner, reported to be close to Vladimir Putin
---
Lawyers for Mr Usmanov said there were "errors of fact and interpretation" in the allegations but gave no further details.
They said: "Our client is not obliged at all to assist you in your enquiries. It is not for him to do your journalists' research which on its face appears to be biased."
In May, Mr Usmanov failed in a £1bn bid to buy out major Arsenal shareholder Stan Kroenke, a move that would have left him with about 97% of Arsenal shares.
Mr Usmanov is known to be frustrated at his inability to influence Arsenal and has no seat on the board.
Both clubs have had their problems on the pitch. Many Arsenal fans have questioned whether manager Arsene Wenger should continue given the recent lack of league titles, while Everton sacked boss Ronald Koeman after a poor start to the season.
The teams met at Goodison Park on 22 October, with Arsenal running out 5-2 winners.
The papers are a huge batch of leaked documents mostly from offshore law firm Appleby, along with corporate registries in 19 tax jurisdictions, which reveal the financial dealings of politicians, celebrities, corporate giants and business leaders.
The 13.4 million records were passed to German newspaper Sueddeutsche Zeitung and then shared with the International Consortium of Investigative Journalists (ICIJ). Panorama has led research for the BBC as part of a global investigation involving nearly 100 other media organisations, including the Guardian, in 67 countries. The BBC does not know the identity of the source.
Paradise Papers: Full coverage; follow reaction on Twitter using #ParadisePapers; in the BBC News app, follow the tag "Paradise Papers"
Watch Panorama on the BBC iPlayer (UK viewers only)