You can see Gary Lineker's in-depth interview with Huddersfield Town boss David Wagner on The Premier League Show at 22:00 BST on Thursday on BBC Two and the BBC Sport website.
Huddersfield boss David Wagner is creating his own reputation as an excellent coach, so it would be understandable if he was sick of talking about Jurgen Klopp.
But although Wagner has been asked about his background with the Liverpool manager since he took charge of the Terriers two years ago, he understands why their relationship is such an interesting story.
There is no hiding the fact they worked together for years and have been friends for even longer, and he was refreshingly open and honest about it when I met him at the Terriers' Canalside training ground for this week's Premier League Show.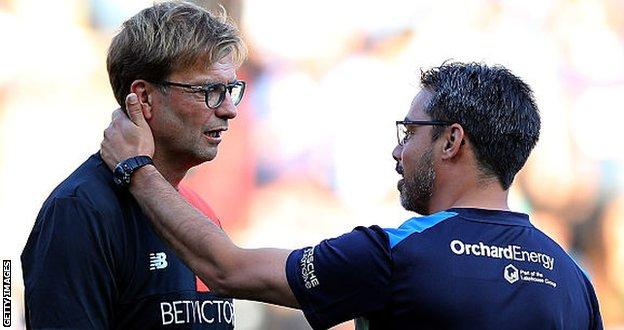 They are still in touch a lot and what Wagner had to say about Klopp was very interesting, especially as they will meet competitively as opposing managers for the first time this weekend when Liverpool host Huddersfield at Anfield.
Wagner says it is going to be very strange to have his best friend right beside him on the touchline and at the same time be competing against him.
He laughed when I pointed out Huddersfield could go above Liverpool in the table if they beat them and admitted he had not really thought about that scenario when the fixtures came out.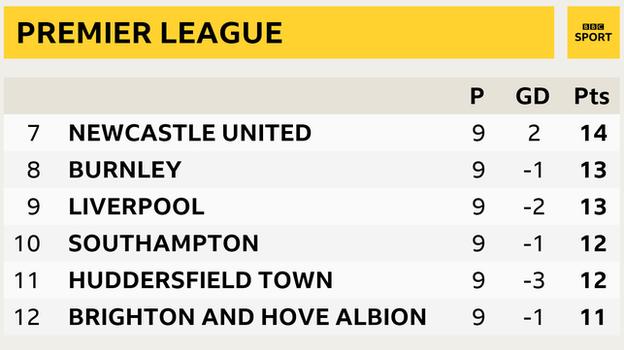 I don't think anyone did, but the fact it could happen shows what good a job Wagner is doing - something we saw more evidence of when his side beat Manchester United last week.
I am sure he has always seen himself as his own man anyway, but results like that mean he is starting to emerge from Klopp's shadow - and deservedly so.
Ahead of the meeting of the Premier League's two German managers, it was enjoyable to meet him and find out what he was really like.
'Like Klopp, he has embraced the culture of the club and the fans'
Like Klopp, Wagner is an engaging character with a good sense of humour, and he is obviously a very clever guy too.
At the end of his playing career, in 2005, he went to university to do a five-year degree in biology and sports science.
He explained that, at that stage, he had no thoughts of going back into football. But he missed it - and here he is managing a Premier League club.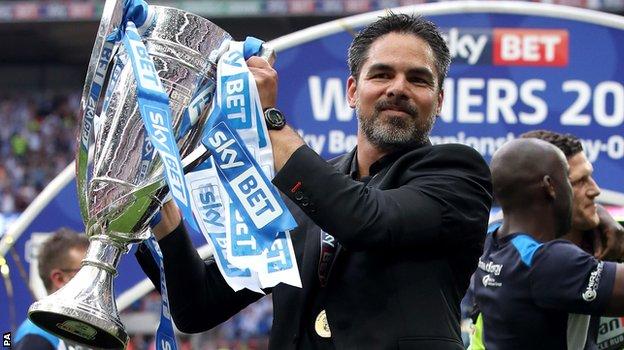 Wagner admits he did not know where Huddersfield was when he took the job in November 2015, and had never heard of the football team.
But, just like Klopp at Liverpool, he has got the fans onside with his passion for the club and the area. He lives in Huddersfield, and he knows what the Terriers' success means to the town.
Having interviewed Klopp for the Premier League Show a year or so ago, the parallels with how he also embraced the culture of the club, the city and the supporters at Liverpool was striking.
The two men are not completely alike of course, although they do have lots in common and those similarities really come through when you talk to them.
Both have the same enthusiasm, the same kind of intelligence and share a similar vision for the type of high-energy football they want their teams to play.
Plus they have also both got a bit of stubble, like a decent pair of spectacles and like to laugh - a lot.
How Wagner uses Terriers' underdog tag
While a few people have started to question Klopp's record at Liverpool, no-one can possibly dispute the progress Wagner has made at Huddersfield.
They were 18th in the Championship when he took charge but he had a plan - and explains really well how he has carried it out.
It is one thing to say you need togetherness to achieve anything when you are at a club of that size, but actually making it happen is another matter.
One of the ways he built spirit was by taking his players to an uninhabited island off the coast of Sweden before pre-season training last year, and leaving them to fend for themselves.
It was a bonding process which worked, and so have his attempts to give his team and the way they play a clear identity. He makes the most of their underdog tag, and everyone has bought into that.
They are punching massively above their weight and a large amount of credit for that must go to the manager.
His aim is still for nothing more than survival this season, which would be a huge achievement given the size of the club compared to some of the giants they are up against.
From Cobham to croquet at Canalside
I interviewed Chelsea midfielder Cesc Fabregas on Monday for next week's show and it was eye-opening to go from their state-of-the-art training complex at Cobham to Huddersfield's base, at a former ICI sports club, a day later.
The comparison in the facilities was stark and it really makes you aware of what Wagner has done despite the challenges he has faced.
Huddersfield have to share their training ground with the public, who play snooker, bowls and croquet there.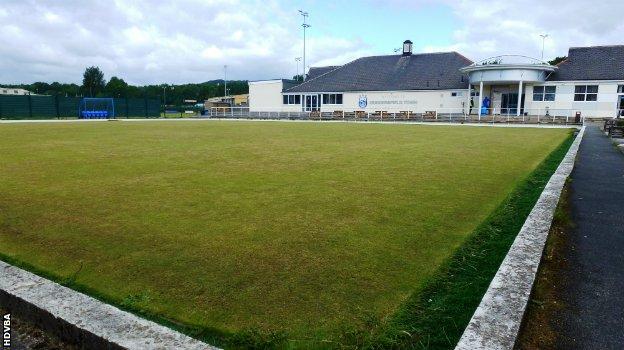 There were other people in the gym when the players were in there, and in many ways it is like a working man's club.
It is a unique set-up in the Premier League, there is no question about that, and I have never seen anything like it before, even in my playing days.
Wagner has embraced those circumstances, however, and it is typical of him that he takes the positives out of the situation and enjoys the connection it gives the club with the local community.
In fact, he just seems to get on with his job without moaning about anything, and it will be fascinating to see what he can achieve next, starting against his friend and former mentor on Saturday.
Gary Lineker was speaking to BBC Sport's Chris Bevan.