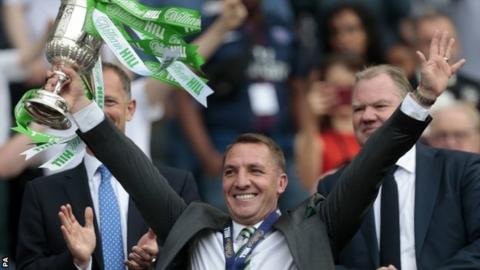 Celtic manager Brendan Rodgers believes his side "can be better" next season, after sealing an unprecedented second successive Scottish domestic Treble.
First-half goals from Callum McGregor and Olivier Ntcham saw off Motherwell in the Scottish Cup final at Hampden.
"We set out to win three trophies, but I need to push them even harder next year," Rodgers told BBC Scotland.
"There are improvements we can make. We'll go away, recover and come back with big motivation in the summer."
Rodgers took over at Celtic Park in the summer of 2016 and won the Scottish Premiership title, as well as beating Aberdeen in both the League Cup and Scottish Cup finals, in his first season.
This term his side have retained the league crown - the club's seventh in a row overall - and beaten Motherwell in both cup finals, 2-0 on each occasion.
It elevated his team above Jock Stein's Celtic side of 1970 and Walter Smith's Rangers outfit of 1994, who both fell at the final hurdle as they attempted successive Trebles.
"For us to be the first team to have done it is a real privilege and a real special day," said Rodgers. "Through all the different eras of the game up here, certain teams have dominated and then it flipped, and in all that time it was never achieved.
"It will probably take time to enjoy it. My feelings are more with the supporters, the players, the staff, the board that brought me in a few years ago. I'm so happy for them.
"We can be nothing but inspired by the Celtic support and their commitment to us. Wherever we go, they're always there. To give them a day like today gives me real satisfaction.
"There's not many days in your life when you wake up with a chance of creating history. The players had a chance to create a memory that will last the rest of their lives."
'We can never be satisfied'
After scoring twice in the opening 25 minutes, the result was rarely in doubt. Motherwell rallied after their turbulent beginning and pushed hard to get themselves back in the game, but it wasn't to be. Just as in the League Cup final, they went down 2-0 to the unstoppable champions.
Rodgers said that the target next season was to go and win everything again.
"That's our idea," he added. "I certainly need to push them even harder next season, no doubt about that. They won't get too many pats on the back, that's for sure. This is our job.
"We're here to win. I think we can be better. We dropped too many points this year, especially at home. Everyone recognised that this year was going to be difficult on the back of last season, but to still churn that out and have that spirit and to produce good performances when you need to is impressive.
"It's so easy to go soft and to go timid and not have quite the same aggression. That was something I was aware of at the beginning of the season because for teams like ourselves it's not so much the punches in the head or the body that stop you, it's the pats on the back. We haven't given out too many of those. We can never be satisfied. We have to have the hunger to succeed."
Celtic midfielder McGregor, who scored the opening goal with a superb half-volley, described his goal as his "biggest one yet".
"We pretty much won the game in the first half," he added.
"To seal a double Treble, it will probably never be done again, so to be part of that... I can't describe it.
"We knew we had a chance to make history. When you get that opportunity, you can't let it pass you by."