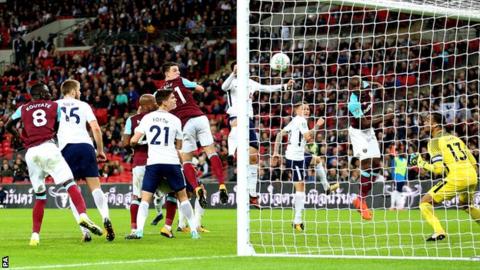 Tottenham Hotspur are investigating an incident of one of their fans allegedly throwing urine during Wednesday's Carabao Cup game against West Ham.
Following the Hammers' 3-2 win at Wembley, a video emerged on social media appearing to show a spectator filling a cup with urine before the contents are thrown at other fans.
A Spurs spokesperson said: "This behaviour is completely unacceptable.
"We are currently investigating and working to identify the individual."
West Ham fought from 2-0 down to defeat Tottenham and reach the last eight of the EFL Cup.
If anybody has any information about the incident they can contact supporter.services@tottenhamhotspur.com in complete confidence.