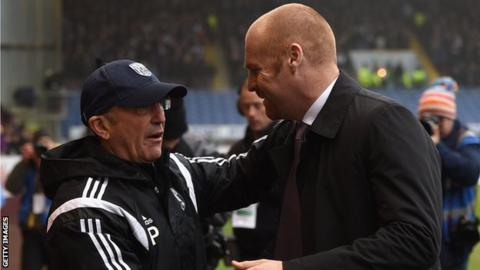 Burnley's Sean Dyche is in the top three Premier League managers of the year, says West Brom boss Tony Pulis.
The Clarets are 14th - two points off ninth place - and close to securing top-flight survival after being promoted last season.
"He's got promoted straightaway with a club that had been relegated the year before," said Pulis.
"And they could end up in the top half of the Premier League with a small budget. He's done fantastic."
West Brom are eighth in the Premier League, despite losing their last four games, and play Burnley on Saturday.
"I won't tell you who I put down as my winner but Sean was in my top three," added Pulis.
Pulis also believes British coaches like him, Dyche, Bournemouth's Eddie Howe and Crystal Palace's Sam Allardyce, do not get the credit they deserve in the Premier League.
"There's some very good British managers in the Premier League," said Pulis.
"I think people overlook them because there are new managers, fresh managers coming in."