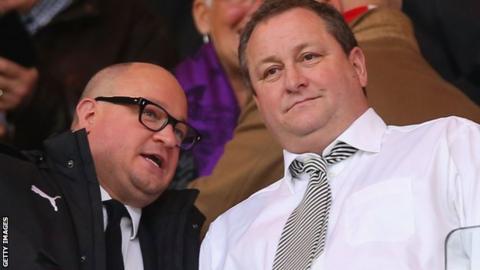 Former Newcastle United winger Chris Waddle says he "feels some sympathy" for Mike Ashley, who has put the Premier League club up for sale.
Ashley has been a divisive figure since taking over in 2007, with some fans protesting against the businessman for much of the past decade.
The Magpies have twice been relegated from the Premier League under Ashley.
"He has been there for 10 years and the fans have never taken to him," said former England international Waddle.
"He has not communicated enough with them or the media to actually explain in what direction the club was going."
Newcastle, who have twice played in the Champions League, have finished in the top half of the Premier League in only two seasons since Ashley bought the club for £134.4m in July 2007.
They finished fifth under Alan Pardew in 2011-12 - their highest finish since 2003-04 - and qualified for the following season's Europa League.
But they dropped into the Championship in 2008-09 and 2015-16, securing promotion at the first attempt on both occasions.
"The fans had a bit of success in the Champions League and they want to be there," added Waddle, who made 170 league appearances for Newcastle between 1980 and 1985.
"Because of size of the club, they think that is where they should be. But it is all about money in modern-day football.
"Mike Ashley learned very early in the job that he can't compete with Chelsea, Manchester United, Arsenal and Manchester City - he knows he will never have enough money.
"He probably thought he could keep them in the Premier League and then sell it. For Newcastle now it is all about someone coming in and providing really heavy investment."
Newcastle's league record under Mike Ashley
Season
Final position
2007-08
12th (Premier League)
2008-09
18th - relegated (Premier League)
2009-10
1st - promoted (Championship)
2010-11
12th (Premier League)
2011-12
5th (Premier League)
2012-13
16th (Premier League)
2013-14
10th (Premier League)
2014-15
15th (Premier League)
2015-16
18th - relegated (Premier League)
2016-17
1st - promoted (Championship)
'Fans will believe it when they see it'
Ashley first put the club up for sale in September 2008 following a series of protests by supporters angered by Kevin Keegan's departure as manager.
The Londoner took the club off the market in December that year, but announced he wanted to sell again after relegation in May 2009, before again ending his attempts to sell the club five months later.
On Monday, a statement said the club was up for sale again, with Ashley hoping to conclude a deal by Christmas.
The news will be greeted with scepticism by many fans, according to Newcastle United Supporters' Trust chairman Norman Watson.
"My reaction is the same as many others: I will believe it when I see it," he said.
"We have been down this road a few times before where we have been up for sale and then he's decided that the club is not up for sale.
"Business deals are usually kept under wraps until a deal is done so I find this move very curious.
"As the statement says, we certainly need investment and it is clear he is not going to give us that."
The AshleyOut.com campaign - which has long been calling for his departure - said it would "eagerly await positive developments".
'Newcastle has been great advertising for Ashley'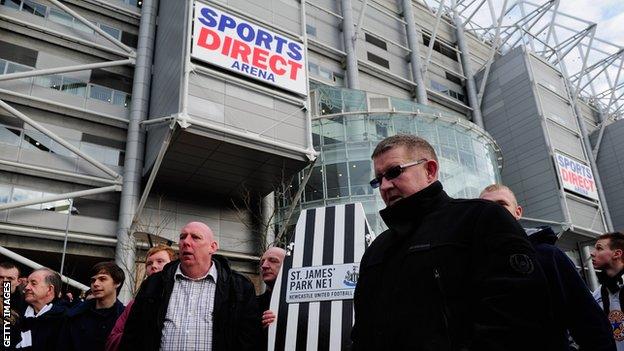 One of the most controversial moments of Ashley's reign came in November 2009, when Newcastle announced they had renamed St James' Park to advertise the owner's Sports Direct retail company.
The stadium, which has been the club's home since 1892, reverted to its traditional name in October 2012.
"The most important thing Mike Ashley has had is advertising for his business for a decade," Times journalist Henry Winter told BBC Radio 5 live's Monday Night Club.
"In terms of his business, it has been great publicity."
'A price of £200m is maybe realistic'
Richard Conway, BBC Radio 5 live's sports news correspondent
I understand there has been an informal attempt to sell the club over the past three or four months at a price of £350m to £400m - there has been no taker at that price.
Talking to industry insiders, they think a price tag of £200m is maybe more realistic. That would represent a small profit for what Mike Ashley bought the club for but I think he will be wanting more for the money he has invested.
There is clear desire to sell by Christmas and that hints he may be aware there are buyers out there.
Ten years, ten managers
St James' Park during the Ashley reign - not a safe place to be a manager.
Rafael Benitez has taken charge of just 64 league games but is already one match away from becoming the second longest-serving manager of the owner's tenure.
And the less said about Joe Kinnear's ill-fated time in charge - both as manager and director of football - the better.
Only Alan Pardew, Premier League Manager of the Season and League Managers' Association Manager of the Year in 2012, has been afforded more than 65 matches since Ashley took charge of the Magpies.
Seven of the 10 men appointed during Ashley's reign have been in position for 28 games or fewer.
| | Games | Points per game |
| --- | --- | --- |
| Sam Allardyce | 21 | 1.24 |
| Nigel Pearson | 1 | 0 |
| Kevin Keegan | 19 | 1.11 |
| Joe Kinnear | 24 | 1.04 |
| Alan Shearer | 8 | 0.63 |
| Chris Hughton | 65 | 1.86 |
| Alan Pardew | 155 | 1.34 |
| John Carver | 19 | 0.68 |
| Steve McClaren | 28 | 0.86 |
| Rafael Benitez | 64 | 1.84 |
Ten years, four FA Cup wins (games, not trophies)
It was reported last month that Ashley had offered his squad a £20m bonus to win the FA Cup.
But the Magpies would need a significant improvement on their results during his decade at the club to even come close.
Newcastle have won just four matches in the FA Cup in 10 seasons, never progressing beyond the fourth round, with Oxford and Stevenage among the teams to have beaten them.
Road to Wembley? No chance
Season
Opponent
Result
Round eliminated
2007-08
Arsenal
Lost 3-0
Fourth round
2008-09
Hull
Lost 1-0
Third round replay
2009-10
West Brom
Lost 4-2
Fourth round
2010-11
Stevenage
Lost 3-1
Third round
2011-12
Brighton
Lost 1-0
Fourth round
2012-13
Brighton
Lost 2-0
Third round
2013-14
Cardiff
Lost 2-1
Third round
2014-15
Leicester
Lost 1-0
Third round
2015-16
Watford
Lost 1-0
Third round
2016-17
Oxford
Lost 3-0
Fourth round
To underline the point, not once have they still been in the League Cup in January during the Ashley years, going out in the fourth round or earlier in eight of those 10 seasons.
Ashley's turbulent reign at Newcastle
May 2007: Takes over at St James' Park.
January 2008: Manager Sam Allardyce sacked and replaced by Kevin Keegan. Dennis Wise named director of football.
September 2008: Keegan resigns and Joe Kinnear is installed as interim manager, sparking fan protests. Ashley puts club up for sale.
December 2008: Takes club off the market.
May 2009: Newcastle relegated to Championship.
November 2009: Ashley renames St James' Park the sportsdirect.com @ St James' Park Stadium.
April 2010: Under new manager Chris Hughton, Newcastle win Championship and return to Premier League.
December 2010: Hughton sacked with club in 11th. Alan Pardew appointed.
November 2011: St James' Park renamed Sports Direct Arena after Ashley's company.
May 2012: Newcastle finish fifth in the Premier League under Pardew.
October 2013: Club bans journalists from the Newcastle Evening Chronicle, the Journal and the Sunday Sun.
May 2015: Ashley says he will not leave club until they have won a trophy.
May 2016: Newcastle relegated from the Premier League for the second time during his reign.
April 2017: Magpies secure promotion back to the Premier League.
This content will not work on your device, please check Javascript and cookies are enabled or update your browser