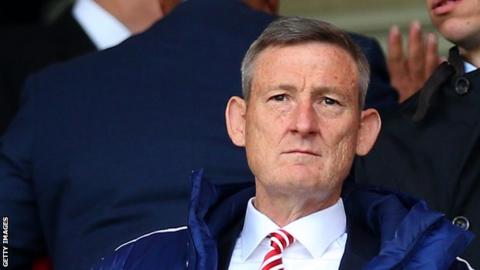 Sunderland's poor Championship form is a "crisis that must be solved", says the club's chairman Ellis Short.
The Wearsiders sacked boss Simon Grayson, who replaced David Moyes in the summer, just 17 minutes after their 3-3 draw with Bolton on Tuesday.
The club, relegated from the Premier League last term, are 22nd in the table with just one win from 15 games.
"The frustration goes beyond having just been relegated," American Short told Sunderland's official website.
"We've obviously got a bit of a crisis to solve right now and when things are going this poorly lots of things become issues - maybe things which shouldn't be."
The Black Cats, who travel to Middlesbrough in the Tees-Wear derby on Sunday, are understood to want an experienced manager to replace Grayson before the visit of Millwall on 18 November.
"I don't believe that this squad of players belongs in the bottom three of the Championship. What's worse is it's not as if we've been putting in great performances and just can't get the ball in the net," Short added.
"We've given away more goals than all but one team and this is largely with many of the defensive players we had last season in the Premier League. That's not acceptable and our view at the club was that we needed to make the change."
'I am watching'
Short, 57, has faced criticism from fans this season but says he is monitoring what is happening at the club, even if he is not present at matches.
"I'm as involved as I've ever been. It is true I am not physically at as many games, which is due to me being more involved in my business life and my family spending time in the US, but I'm watching," Short added.
"Also, I am involved financially. I've put a significant amount of new capital into the club this summer. This didn't go to buy new players, it went to cover losses related to our mistakes of the past."
Short has been Sunderland owner since May 2009 and said he had hired an advisor this year to process a takeover of the club, but decided to remain in June as he was unhappy with the potential deal with a German consortium.
He added: "I have got the interests of the club at heart and I am not going to do anything that is not good for the club.
"I do understand the fans want me out, but I am certain that they would not have been happy with that transaction and that's why it wasn't done."
Analysis
Ian Dennis, BBC Radio 5 live's senior football reporter
Short, like Mike Ashley at Newcastle United, is a recluse when it comes to the media so this is a significant appearance.
You could count on one hand the times he has addressed the fans since he took charge, however, he has acted because of "a bit of crisis to solve right now".
Recently, Sunderland chief executive Martin Bain has conducted fans' forums on Wearside, and Short, in this honest interview, clarifies the situation regarding recent proposed takeover talk. The club is not officially for sale but Short says he would enter discussions with credible people.
As a football club they can't be accused of keeping their supporters in the dark at the Stadium of Light.
Sadly, Short doesn't offer any clues as to who their next manager will be or talk about past mistakes which have contributed to Sunderland's demise.
Instead, the focus is to get out of their current predicament, because the reality is they are a club in peril faced with the threat of successive relegations.