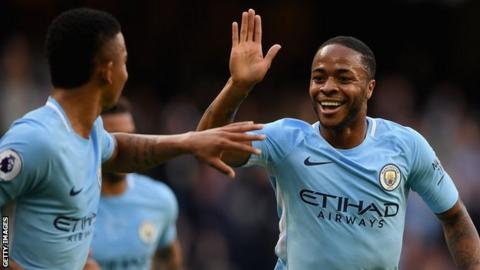 England international Raheem Sterling says his long-term future lies at Manchester City.
Arsenal were keen to sign the forward in the summer as part of a potential deal involving Alexis Sanchez.
City boss Pep Guardiola said at the time there was "zero chance" of the 22-year-old leaving.
Asked if he would be remaining at the club for the long term, Sterling said: "Yes. I signed for five years. I have two and a half left."
Sterling joined City from Liverpool for £49m in 2015.
It was suggested in August that he was interested in switching clubs.
But he said: "I didn't have any negative thoughts and didn't need to worry about it."
The 'genius' of Guardiola
Sterling has scored seven goals so far this season, including one in the 7-2 hammering of Stoke on Saturday.
He has scored 11 in a single campaign twice - in his final season at Liverpool and his first at City.
Sterling has benefited from working with Guardiola and feels, despite all the intricacies the former Barcelona manager brings to the game, his major attribute is keeping it simple.
The former QPR youngster said: "He has been massive for me. He always tries to get you do the simple stuff and that is genius because it works."
Sterling has matured hugely from the player who joined from Liverpool amid some acrimony after falling out with then Reds boss Brendan Rodgers.
His contract stand-off and controversial BBC interview led to huge criticism and, after more negativity following his arrival at City, he has opted to ignore social media.
He said: "My first year here, I used to always be on Instagram.
"You see stuff pop up and check it out because you don't know any better. Since I have been getting those negative comments, I realise the best thing is not to look at it."
'Comparing De Bruyne to Messi won't help'
Kevin de Bruyne has been widely praised for his performance against Stoke, with Potters boss Mark Hughes describing the Belgian as "the best player in the Premier League by a country mile".
De Bruyne had two assists and played a major role in three of the other four goals City scored while he was on the pitch.
Having worked so closely with Lionel Messi during his time at Barcelona, Guardiola is reluctant to be drawn into describing De Bruyne as the world's best.
He said: "If you want to be considered one of the best, you have to win titles.
"Kevin is one of the best and I would love him to get to the level of Messi.
"He is an outstanding, amazing player and a humble guy. But I don't help him by comparing him with Messi.
"Messi is apart. He scores 60 goals every season for eight or nine years. In the past, many times people have said 'that guy is like Messi' but it is not possible."
Aguero in contention for Napoli game
Having gone two points clear at the top of the Premier League on Saturday, City face Napoli in the Champions League on Tuesday.
And striker Sergio Aguero could return to the starting line-up against the Serie A leaders.
The Argentine was on the bench against Stoke just over two weeks after breaking ribs in a car accident, and trained on Sunday.