2018 Fifa World Cup last 16: Colombia v England
Venue: Otkrytie Arena, Moscow. Dates: Tuesday, 3 July
Coverage: Live coverage on BBC Radio 5 live, BBC Sport website and app; follow text updates online.
England have their "edge back" at the World Cup following the "love in" they received before the defeat by Belgium, says manager Gareth Southgate.
The Three Lions finished second in Group G and face Colombia in Tuesday's last-16 tie in Moscow.
Southgate made a number of changes after thrashing Panama and beating Tunisia in their opening game.
He said: "The most important thing for me is the players are in the best physical condition for the game."
A victory or draw with a better disciplinary record than Belgium would have seen England top their group and face Japan in the knockout stages.
But a second-placed finish is seen as a more favourable route in the tournament, avoiding a potential quarter-final against five-time winners Brazil.
Southgate has come under scrutiny for making eight changes to a winning side, opting to leave high-profile players including captain Harry Kane on the bench against Belgium.
Southgate said: "I don't think mentally we lose anything because Colombia know we've made changes and they know Belgium weren't their full team as well.
"So, we are in to big matches where margins will be fine and judgement on me will be extremely harsh. That's why we are here.
"We want to be in those games. I wasn't so comfortable with the love-in [before the game], to be honest, so it's nice that there's a little bit of an edge back."
Kane shows 'real leadership'
Striker Kane has been in prolific scoring form, netting 135 goals in all competitions for Tottenham over the last four seasons.
Named captain for the World Cup, he started the tournament by scoring five goals in the first two games to lead Portugal's Cristiano Ronaldo and Belgium striker Romelu Lukaku - who have four apiece - in the race for the Golden Boot.
Kane was then left on the bench for the full 90 minutes against Belgium.
"I felt the need to sit with him, but he was brilliant, absolutely brilliant," said Southgate. "He totally understood 100% that the team is first.
"He said 'look, I know everyone says I want the Golden Boot - of course it's something I want to do - but the main thing is getting the team through the first knockout'.
"He was excellent on that, showed real leadership and understanding of the big picture."
'Discipline and penalties' has cost England in the past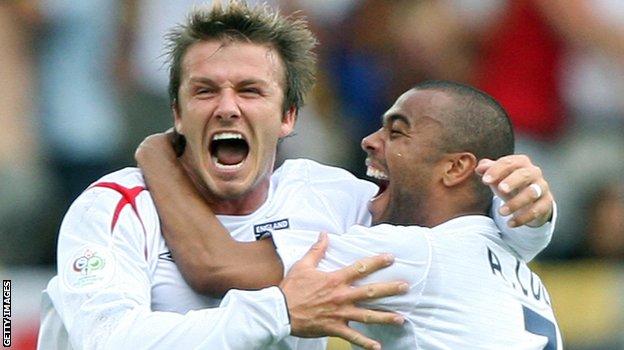 England last won a knockout game in a major tournament at the 2006 World Cup, when David Beckham scored the only goal in a 1-0 win over Ecuador.
The side's most recent knockout tie ended in humiliation when England were beaten 2-1 by Iceland at Euro 2016.
Asked why England have struggled after group stages, Southgate said: "Many different reasons, but you are playing against the best players in the world.
"We've at times had a squad with real top players and at times we've had a squad with not such outstanding players who've been in those knockout situations.
"There've been many different reasons for not getting over the line. Some disciplinary, some have been penalty shootouts.
"But more often than not we have not been able to win those matches in normal time or in extra time."
Penalties? 'We can own the process'
England have the worst penalty shootout record in World Cup history, and Southgate himself is synonymous with failure in that area having missed from the spot against Germany in the Euro 96 semi-final.
But the England manager says it is not something his players should fear and has been planning for such an eventuality since March.
Asked if he has learned from his Euro 96 experience, Southgate said: "Absolutely, no question.
"In defence of the staff there at the time, penalty shootouts weren't as regular then. The depth of knowledge and understanding, we didn't have as much information as we do now.
"Definitely it's not about luck. It's not about chance. It's about performing a skill under pressure. There are individual things you can work on within that. We have studied it.
"There are things that can be unhelpful in terms of their preparation for players at that moment.
"As a staff, knowing who is in charge of which bits, who needs to get out of the way, who can speak with clarity to the players.
"There is lots we can do to own the process and not be controlled by it."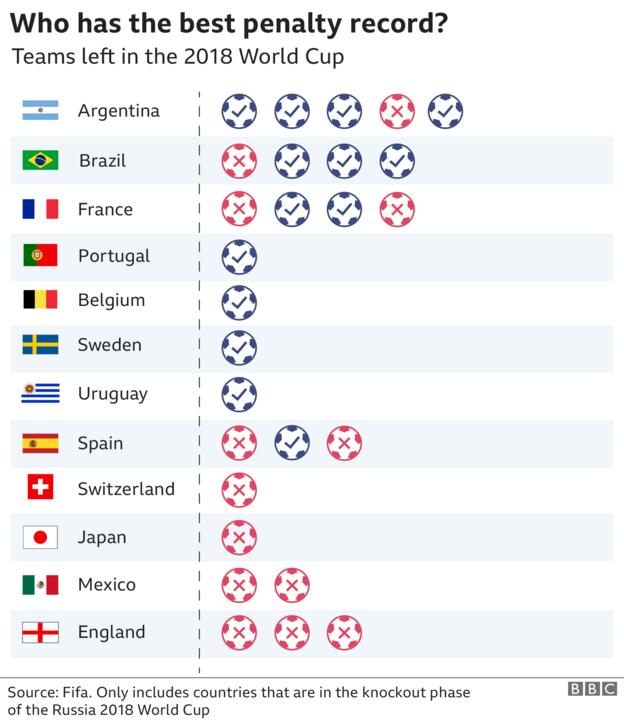 Southgate 'excited' by Colombia tie
Colombia topped their group ahead of second-placed Japan, while Senegal and Poland failed to make it through.
They have a major doubt over playmaker James Rodriguez, whose six goals at the last World Cup in Brazil saw him claim the Golden Boot.
But former Manchester United and Chelsea striker Radamel Falcao poses a serious threat too, as does River Plate midfielder Juan Quintero.
At the back, they are marshalled by Barcelona defender Yerry Mina, who has scored twice at this tournament, while Davinson Sanchez will come up against his Spurs team-mate Kane.
Southgate feels the tie is "exciting" and his side have an opportunity to address their poor knockout form against the South Americans.
"For me, it's going to be a brilliant game to be involved in," added Southgate.
"It looked like Colombia had 30,000-40,000 fans in the stadium. I went to two of their games in Brazil [four years ago] - they were incredible occasions.
"They have some top players, some top attacking players in particular, but we also have some really good players who are full of belief and looking forward to this challenge."