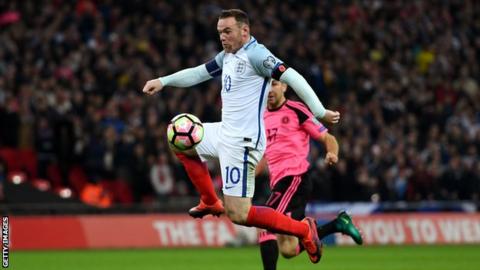 England manager Gareth Southgate says he did not speak to captain Wayne Rooney before leaving him out of the squad for June's matches with Scotland and France.
England's all-time leading goalscorer Rooney has only started 15 league games for Manchester United this season.
The 31-year-old was left out of the previous squad in March due to injury.
"There are only so many times you can speak about it," said Southgate, who has not yet decided on a new captain.
Southgate said on Thursday that Rooney was overlooked because of the "good form" of other players.
"I've no idea what the future is for Wayne at Manchester United so it's impossible for me to comment if he's part of the plans or not," added Southgate.
"He's got some big decisions to make this summer."
More to follow.