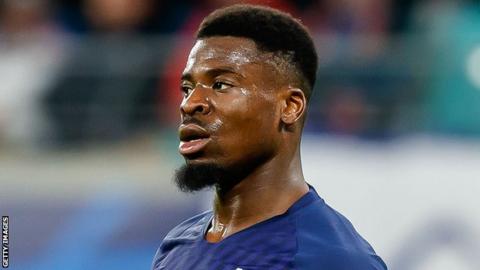 Tottenham Hotspur are investigating after defender Serge Aurier appeared to breach coronavirus social-distancing rules for the third time.
The Ivory Coast right-back, 27, posted a photo on social media of himself and a barber after getting a haircut.
Hairdressers will open from 4 July at the earliest in England, and people cannot have visitors at their homes.
Spurs said they were "investigating the circumstances and will deal with the incident appropriately".
In a social media post on Wednesday, Aurier hinted that there were double standards behind criticism he has received.
"My hairdresser is negative and me too, so stop talking in a vacuum," he wrote.
"Put on masks and gloves when you come to take pictures at the training centre - it's part of the rules too."
Aurier was among the Tottenham players who returned to training on Tuesday.
He previously apologised for posting a video of himself and a friend jogging during lockdown.
Aurier and team-mate Moussa Sissoko also made a donation to the NHS and apologised after being filmed training together.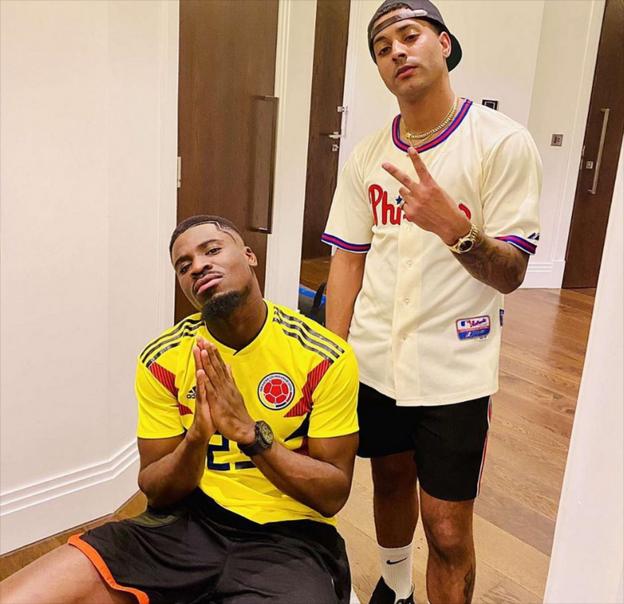 Footballers to have breached lockdown guidelines
Manchester City defender Kyle Walker was reported to have hosted a party involving two sex workers and then travelled to South Yorkshire to visit his sister and parents at different addresses. He has written to some of the club's supporters to apologise.
Everton striker Moise Kean is set to be disciplined by the club after being filmed at a house party.
Aston Villa captain Jack Grealish was pictured at the scene of a car crash, after going to "see a friend". He apologised and said he was "deeply embarrassed".
Tottenham's Serge Aurier and Moussa Sissoko apologised for training together despite the coronavirus restrictions.
Spurs manager Jose Mourinho "accepted his actions were not in line with protocol" after being pictured holding a one-on-one training session in a park with midfielder Tanguy Ndombele.
Arsenal spoke to all their players after Alexandre Lacazette, David Luiz, Nicolas Pepe and Granit Xhaka were pictured breaking social distancing guidelines.
Chelsea midfielder Mason Mount was pictured having a kickabout with West Ham's Declan Rice despite team-mate Callum Hudson-Odoi testing positive for coronavirus and Mount being told to self-isolate for 14 days.
Wolves midfielder Morgan Gibbs-White was pictured on social media at a party. The 20-year-old is facing disciplinary action from the club.