Burnley manager Sean Dyche says "no-one cares" about trying to eradicate diving from English football and that laws designed to do so are "very weak".
The Turf Moor side conceded a penalty against Manchester City last weekend when Bernardo Silva went down under the challenge of goalkeeper Nick Pope.
A new Football Association rule permits retrospective punishment for simulation but no action was taken against Silva.
"I can't find anyone who's that bothered about diving," Dyche said.
"The FA have a very weak rule that covers it but doesn't cover it, the powers-that-be don't seem to be bothered and it goes out to billions of people around the world."
A new regulation was brought in for this season aimed at combating "successful deception of a match official".
A three-strong panel - consisting of a former match official, ex-manager and ex-player - reviews footage each Monday to identify potential cases
Only incidents that result in a player winning a penalty or lead to an opponent being sent off are punished and, if a player is unanimously found guilty, the FA can mete out a two-game suspension.
Carlisle forward Shaun Miller last week became the first player charged under the rules, with no Premier League player having been found guilty as of yet.
'If our lads did that, they'd get a little reminder'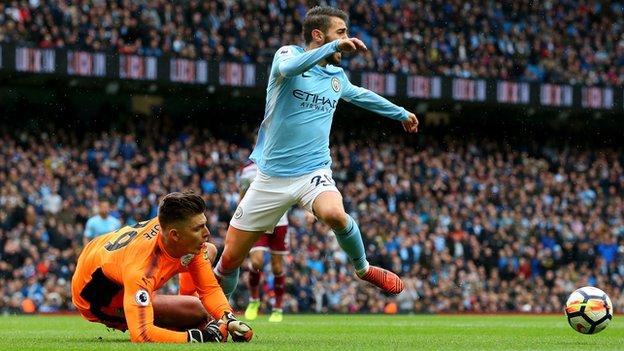 Pope and Silva tangled as the pair chased a loose ball in the penalty area. Referee Roger East awarded a penalty and replays showed Pope's knee came down on Silva's foot as he slid in.
Sergio Aguero converted the spot-kick as the Premier League leaders went on to win 3-0 but Dyche felt the Portuguese playmaker made the most of the collision.
"There is contact - I did not know it at the time - but it is minimal," the Burnley boss said after the match.
"For him to get that high off the floor with his arms above his head is almost a skill in itself. I was quite impressed with how far he travelled.
"If I kicked my kid in the garden, I don't think he would fall like that, so it was a moment where there has to be a bit of honour within the game where you go 'OK, he has caught me, but it is not enough'."
Speaking a news conference to preview Monday's meeting with Newcastle, Dyche elaborated on his concerns.
"It has to be looked at for the moral good of the game," he said. "Thirteen-stone, athletic, six-foot international footballers get the tiniest touch on their leg and go down? Do me a favour. That's enough to make you go down?
"Kids copy professional players, they'll fall over as well. [You] can't have kids cheating - you wouldn't have them cheating at school.
"Without being too pure, if our lads did that, they'd get a little reminder."