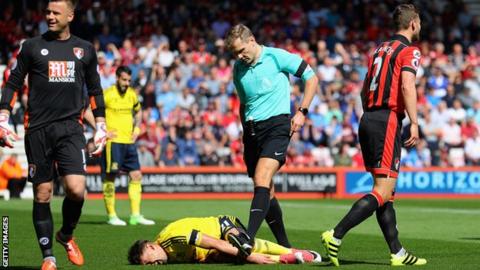 Players who dive in English football could face bans from next season.
The Football Association will vote on retrospective action at its annual general meeting on Thursday and is expected to approve the proposal.
The governing body would need the backing of the Premier League, the English Football League and the Professional Footballers' Association to introduce the rule change.
But it is understood they are broadly supportive and already in agreement.
Under the proposed new rules, a panel would review footage from the weekend each Monday looking for cases of simulation. Any player unanimously found guilty of diving would be given a suspension.
Speaking in December, Burnley manager Sean Dyche said he thought diving would be eradicated from football "in six months" if retrospective bans were introduced.
Such bans have been in place in Scottish football since 2011.
What happens in Scotland?
BBC Scotland's Richard Wilson:
The Scottish Football Association compliance officer - Tony McGlennan - reviews incidents in matches and determines whether or not notices of complaint should be raised.
If a player is deemed to have dived during a game and the match officials did not recognise that at the time, the player will be issued with a disciplinary notice.
The player can then either acknowledge guilt and accept the punishment offered by the compliance officer, or appeal.
If it is the latter, a hearing is convened with an independent three-man panel - including people from legal and football backgrounds - who consider the case made by the compliance officer and the player before making a ruling.