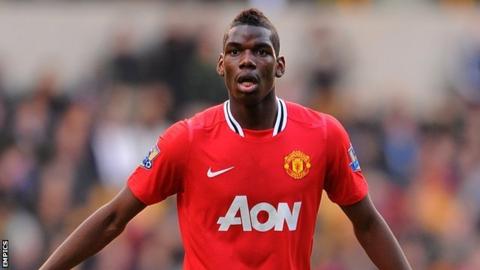 Paul Pogba has arrived at Manchester United for a medical before his world record £89m transfer from Juventus.
The France midfielder flew from Nice into Manchester airport on Monday before making his way to the club's training ground.
United will pay the Italian champions 105m euros for Pogba, plus performance-related bonuses and other costs.
The deal for the 23-year-old, who left United for £1.5m in 2012, is due to be completed in midweek.
The Old Trafford club still have to agree personal terms with Pogba, although that is expected to be a formality.
Pogba's return surpasses Wales forward Gareth Bale's £85m move to Real Madrid in 2013 as the biggest transfer deal in history.
Following Sunday's Community Shield, which United won 2-1 against Leicester, manager Jose Mourinho said about Pogba: "He comes because he knows the club, knows the city, many of the players and wants to be an important part of the project.
"Football is crazy and the market has become crazy. What you think this season is crazy, you realise three years later it's not crazy any more.
"What is expensive and not expensive in football? I don't know any more. I just know he is a big player."
In four seasons at Juventus, Pogba, who helped France reach the Euro 2016 final, won four Serie A titles.
He is Mourinho's fourth signing at United, after Ivory Coast defender Eric Bailly, former Sweden striker Zlatan Ibrahimovic and Armenia forward Henrikh Mkhitaryan.
It will be the first time in 20 years an English club will have paid a world record fee - when England striker Alan Shearer joined Newcastle United from Blackburn Rovers for £15m.
Pogba joined United from French club Le Havre in 2009 as a 16-year-old, but made just a handful of appearances before his contract expired in July 2012.
He has made 178 appearances for Juventus, scoring 34 goals, and helped the club reach the 2015 Champions League final. The Serie A side had offered him a new contract, while Real Madrid were also interested in signing him.