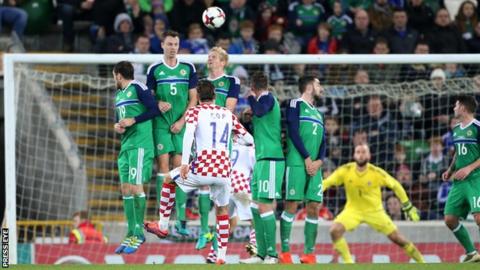 Northern Ireland manager Michael O'Neill hopes his side are drawn against Denmark or Switzerland for a place in the 2018 World Cup.
The draw for the play-offs will be held at 13:00 BST in Zurich, with Northern Ireland among the four unseeded teams.
After defeats in qualifying to Germany and Norway, Northern Ireland dropped below Denmark in the Fifa rankings.
The Danes, who were runners up in Group E, will be seeded alongside Italy, Croatia and Switzerland.
The Republic of Ireland, Sweden and Greece are the other unseeded teams in the draw.
"I think you always want to avoid the Italians," O'Neill said before the draw.
"We've played Croatia and it was a very difficult game," he added, referring to the friendly defeat at Windsor Park in November 2016.
"They had some players missing, we played some of our fringe players as well, so it wasn't a true reflection of the game.
"But I think, certainly, Denmark and Switzerland would provide a stiff test but I definitely think out of the four teams, they're possibly the two you would favour over the two teams I previously mentioned."
Northern Ireland climbed to 20th place, their highest ranking, in the previous Fifa list but the defeats to Germany and Norway at the end of their Group C campaign meant they slipped three places to 23rd.
In the same period, Denmark beat Montenegro and drew with Romania to climb seven places to 19th.
"When we looked at it closely, we had to take something from the Germany game to be ranked above Denmark given how the seedings worked out so it would have been a big ask for us to do that and while we just missed out, we're looking forward to the draw and whoever we get," O'Neill said.
A little bit nerve-racking
The games will take place on a home and away basis, with the first legs between 9 and 11 November and the second legs between 12 and 14 November.
The first team drawn for each of the ties will be at home first.
"It's a little bit nerve-racking as well," O'Neill said.
"It's going to be a very difficult game who ever we play, but equally there are teams in there you probably would rather avoid as opposed to some that you may rather play.
"It's exciting for everyone and it's a great position for us to be in, to come through the group and finish in second place behind the Germans and, as I've said all along, our World Cup starts in November and this draw is going to be crucial obviously."