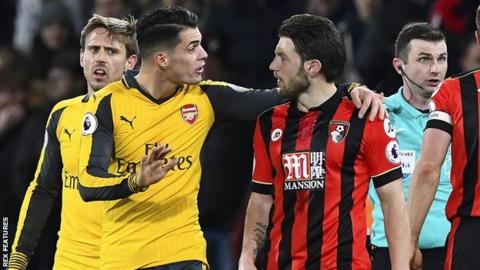 Ex-Hitchin Town player Alfie Barker has been suspended from all football activity until 1 August by the FA as a result of tweets he sent to Bournemouth's Harry Arter about the death of his baby daughter.
During Bournemouth and Arsenal's 3-3 draw, Barker posted: "Big hype just for a disappointment like the nine months leading up to your child's birth."
Barker admitted a Football Association charge at a hearing on Tuesday.
The 18-year-old was also fined £250.
Arter, whose side were 3-0 up against the Gunners, and partner Rachel's baby daughter Renee was stillborn in December 2015.
Barker, who was sacked by Hitchin and Codicote FC, where he had been on loan, after sending the tweets, has also been warned as to his future conduct.
He was charged with allegedly posting comments which were abusive and/or insulting and/or improper and/or brought the game into disrepute.
Barker later apologised for his "disgraceful comments" and said that he would accept any punishment given to him.