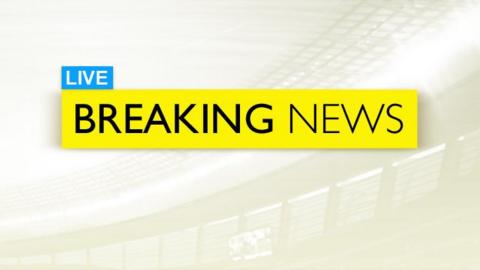 Jose Mourinho has been officially confirmed as Manchester United manager and has signed a three-year contract.
He replaces Dutchman Louis van Van Gaal, who was dismissed on Monday, two days after the club's FA Cup win.
"José is quite simply the best manager in the game today," said United executive vice-chairman Ed Woodward.
Mourinho, 53, said: "To become Manchester United manager is a special honour in the game. It is a club known and admired throughout the world."
He said he had always "felt an affinity with Old Trafford" and claimed he has "always enjoyed a rapport with the United fans".
He added: "I'm looking forward to being their manager and enjoying their magnificent support in the coming years.
"There is a mystique and a romance about it which no other club can match."
Mourinho has been out of work since being sacked as boss of Premier League rivals Chelsea in December.
"His track record of success is ideal to take the club forward," said Woodward.
"He has won trophies and inspired players in countries across Europe and, of course, he knows the Premier League very well, having won three titles here."
The Portuguese's appointment followed three days of talks between his agent, Jorge Mendes, and senior United officials.
The BBC reported on Saturday, within an hour of United's 2-1 win over Crystal Palace, that Van Gaal would be sacked and Mourinho was set to replace him.
Talks, which started on Tuesday and were delayed by negotiations over Mourinho's image rights, finally concluded on Thursday.
Mourinho won three league titles in his two spells at Stamford Bridge, led Real Madrid to the Spanish title in 2012, and guided Porto and Inter Milan to Champions League victories in 2004 and 2010 respectively.
However, he left the Blues in turmoil only seven months after winning the Premier League title, with the club 16th in the league, just one point above the relegation zone, having accused some players of "betraying" his work.
Timeline to Mourinho's appointment
Mourinho was first linked with the Old Trafford job in 2013 when Sir Alex Ferguson retired, but the club instead appointed David Moyes.
But, as the pressure intensified on Van Gaal - who succeeded Moyes - from Christmas 2015 onwards, so did the speculation the out-of-work Portuguese was being lined up to replace him.
Saturday, 21 May. 20:00 BST - Manchester United win the FA Cup
Saturday, 21 May. 20:54 BST - BBC Sport breaks the news Van Gaal will be sacked, with Jose Mourinho in line to replace him
Saturday, 21 May. Post-match - Van Gaal's wife informs him of sacking reports after reading BBC Sport website
Monday, 23 May. 12:00 BST - BBC Sport breaks the news Van Gaal has been sacked
Monday, 23 May. 20:30 BST - The Old Trafford club confirms Van Gaal's sacking
Tuesday, 24 May. Mourinho's agent Jorge Mendes and United executive vice-chairman Ed Woodward meet for talks
Wednesday, 25 May. Talks enter a second day but are delayed over Mourinho's image rights
Thursday, 26 May. After a third day of talks, negotiations are complete and a deal is agreed
Friday, 27 May. Mourinho is confirmed as Manchester United in an official club statement
Reaction
"Mourinho is a Marmite manager, you either love him or hate him," Manchester United Supporters' Trust vice-chairman Ian Stirling said. "He finished on a failure at Chelsea so maybe he has to come here and prove himself again.
"All the Manchester United fans want is someone who respects what the club is and what we are about."
Former Old Trafford goalkeeper Peter Schmeichel said Mourinho "could save" the club after they had "moved a little bit backwards in terms of philosophy and traditions".
Ex-Chelsea boss Carlo Ancelotti described Mourinho as a "fantastic signing", adding United had "lost its identity this last year".
Paul Scholes, who spent 20 years at United, said Mourinho would understand the club's traditions of "attacking football".
However, Old Trafford legend Eric Cantona said his former club should have gone for incoming Manchester City boss Pep Guardiola instead, saying he "loved" Mourinho's "personality, passion and humour", but his style of play is "not Manchester United".
Retired Netherlands international Ronald de Boer described Mourinho as a "workaholic" who "prepares perfectly on how to win".
De Boer, who worked with Mourinho at Barcelona, added: "Sometimes it is not pretty but he knows how to grind out wins. That is what you get."
What is next for Mourinho?
Mourinho's first match at Old Trafford will be on 5 June for Soccer Aid, managing an England team against a Rest of the World side led by Leicester boss Claudio Ranieri.
He will then come up against Guardiola, who takes charge of Manchester City, during a pre-season tournament in Beijing on 25 July. Mourinho was manager of Real Madrid from 2010 to 2013, winning one La Liga title, while Guardiola was coach of Barcelona.
"We will undoubtedly have fun," Spain-based journalist Graham Hunter told BBC Radio 5 live. "I hope we get the quality of football, drama, theatre that we got then. A very different situation coming your way in Manchester next season."
United have already expressed an interest in making Sweden international Zlatan Ibrahimovic their first signing of the summer, with the 34-year-old available on a free transfer after leaving Paris St-Germain.
Ibrahimovic told a news conference on Thursday that Mourinho, whom he played under at Inter Milan in 2008-09, "is the man to bring them back to the top".
Tactical analysis
Former Chelsea winger Pat Nevin
"From the very start of his career in coaching he has had this incredible self-belief, great knowledge and incredible attention to detail, but also this ability to think outside the box in a way some managers don't.
"He's very willing to change things and adapt things in more complex ways when he has to and when it has to be simple, he will be simple.
"I have talked to him a few times about tactics. This guy is on a different level completely. In one game he made a number of changes within a three-minute period that other managers would take three games to do.
"He made radical changes, extreme changes that would not have even entered the mind of most managers. He not only did it, he did it with speed and they worked."
What about Ryan Giggs?
The future of assistant boss Ryan Giggs remains uncertain, with the club not mentioning the 42-year-old in their statement.
He is known to be unhappy at the way Van Gaal was dismissed and is considering an offer to extend his 29-year association with the club, having been passed over for the manager's job for the second time.
Subscribe to the BBC Sport newsletter to get our pick of news, features and video sent to your inbox.