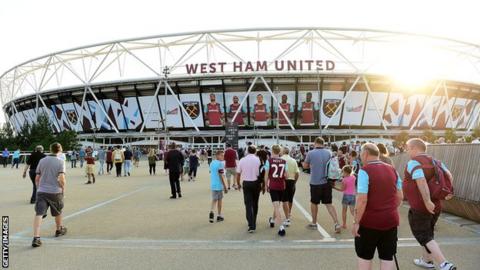 "Deeply concerned" London mayor Sadiq Khan has ordered an investigation into a £50m increase in the cost of converting West Ham's London Stadium.
In 2015, former mayor Boris Johnson said the change from an Olympics arena to a football stadium would cost £272m, a figure which has now risen to £323m.
The investigation will look into inherited issues including the cost of moving the retractable seating.
A stadium expert has said the ground should be knocked down and rebuilt.
Paul Fletcher, who has built or advised on more than 30 new grounds, said it should be rebuilt as fans are too far from the pitch so it is not suitable for football.
The club declined to comment when contacted by BBC Sport.
The new retractable seating cost of £8m a year is up from an original estimated cost of £300,000 because the company originally contracted for the job had gone bust, reports BBC sports editor Dan Roan.
It means stadium operators London Legacy Development Corporation (LLDC) and the London taxpayer will need to pick up the additional costs, with Premier League side West Ham contributing £2.5m-a-year rent, plus the one-off £15m for the conversion cost.
John O'Connell, Chief Executive of the TaxPayers' Alliance: "For too long the details of this shabby deal were kept in secret and lacked proper scrutiny so Sadiq Khan is absolutely right to look again at the case.
"It's now down the those in charge of the inquiry to get to the bottom of how West Ham were gifted the deal of the century while ensuring their investigation doesn't end up costing the taxpayer as much as the stadium."
A spokesperson for the Mayor of London said: "The mayor is deeply concerned about the finances of the Olympic Stadium, which have clearly been left in a total and utter mess by the previous administration at City Hall.
"The former mayor announced just last year that the total cost for transforming the stadium was £272m. In reality this is £323m - a difference of more than £50m.
"Sadiq has ordered a detailed investigation into the full range of financial issues surrounding the stadium."
A tendering process is under way for moving the seating for the 2017 World Athletics and Para Athletics Championships, which will establish the actual cost.
West Ham won the bid to occupy the Olympic Stadium in March 2013 and played their first game there in August 2016, after 112 years at Upton Park.
However, their move has been marred by fan violence, leading the club to issue a five-point security plan to prevent further disorder.