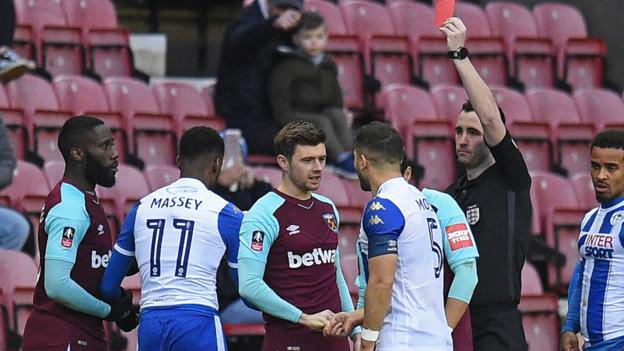 Arthur Masuaku has apologised for spitting at an opponent in West Ham's FA Cup defeat by Wigan, saying it was "totally unacceptable and out of character".
The 24-year-old Frenchman reacted to a challenge from Nick Powell at the start of the second half and was sent off.
Hammers manager David Moyes called Masuaku's actions "despicable".
The defender, who faces a lengthy ban, tweeted: "I let down my team-mates, the manager, coaches, board and the fans".
He added: "I am very sad because the manager and coaches have put a lot of faith in me, but I will work very hard to win try and win that back.
"It was in the heat of the moment and out of character for me, but I know it was totally unacceptable and I will learn from the first red card of my career."
Leeds forward Samu Saiz accepted a six-game ban for spitting in their FA Cup defeat by Newport earlier this month.
Speaking after the 2-0 defeat, Moyes added: "[Masuaku] will deserve everything he gets and he will get something he deserves from us."
The east Londoners, who are just four points clear of the relegation zone, face Crystal Palace, Brighton and Watford in their next three league games.
They are already without a number of key players due to injury.