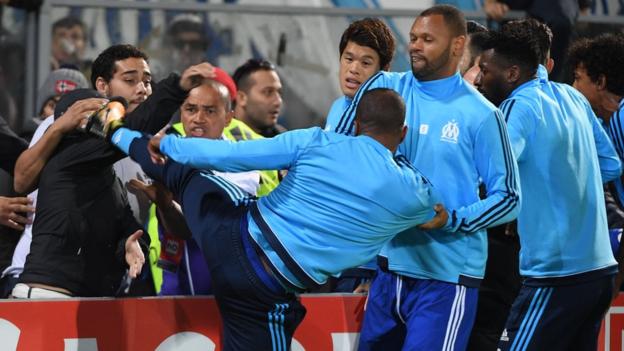 Marseille have suspended Patrice Evra after he kicked a fan in the head before his side's Europa League defeat at Vitoria Guimaraes on Thursday.
Footage showed the 36-year-old former Manchester United defender aiming an acrobatic kick at a supporter at the side of the pitch during the warm-up.
Evra will be interviewed before any disciplinary action is decided.
A Marseille statement also condemned the "unacceptable behaviour" by a "handful of provocateurs".
European football's governing body Uefa charged France international Evra with violent conduct earlier on Friday, with the full-back suspended for "at least one game".
French newspaper L'Equipe reported that Marseille supporters had been jeering Evra for about half an hour while the players prepared for the game, which the Ligue 1 side lost 1-0.
The player had gone over to the fans to talk to them - but the situation escalated.
"As a professional and experienced player, Patrice Evra could not respond in such an inappropriate way," the statement added.
"In addition, the first results of the internal investigation conducted by the club reveal unacceptable behaviour on the part of a handful of provocateurs who uttered particularly serious hateful attacks against the player, even though the latter and his team-mates warmed up for an important game."
How it happened
Named as a substitute, Evra begins warming up with his team-mates before the game
The former Manchester United left-back appears to be the target of songs and abuse from the crowd for about 30 minutes
Evra approaches the Marseille fans, about 500 of whom had travelled to Guimaraes
He volleys a ball towards the crowd, but some of his team-mates come over and look to calm the defender down
Evra climbs over the billboards and looks to confront spectators who have come towards the front of the stand
The 36-year-old returns to the pitch, but a group of fans approach the billboards and Evra appears to kick one of them
Evra is led away to the substitutes' bench, but is sent off by the referee and watches the game from the stands
More to follow.