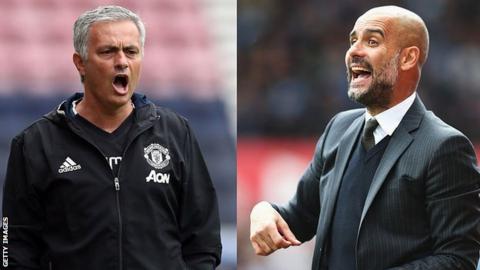 Manchester City boss Pep Guardiola says the chance to make history is not playing on his mind as he prepares for Sunday's derby with rivals Manchester United.
If City win the game it will be their 14th league victory in a row - a record in a single Premier League season.
However, Guardiola says his focus is only on developing a strategy to beat Jose Mourinho's side.
"The record will be broken, my concern is how we win the game," he said.
"If you play one game thinking about records you forget what you have to do."
Who will win the Manchester and Merseyside derbies?
Is stopping Sane and Sterling the secret to derby success?
This is the first derby since April 2013 where the two clubs occupy the top two positions in the table.
If Manchester City win the game at Old Trafford they will move 11 points clear at the top of the table.
Meanwhile, a win for second place Manchester United would see them close the gap to five points.
However, Guardiola believes it is far too early to suggest that the match could be a title decider.
"Winning, drawing or losing on Sunday, we are not going to win or lose the Premier League. It's December," he added.
"There are a lot of points to play for, more than 70. We just focus on the game."
'We are like twins'
Guardiola and Mourinho have a long-running rivalry, stretching back to their time in Spain as managers of Barcelona and Real Madrid respectively.
That rivalry has, at times, been feisty but Guardiola believes when it comes to the desire to win trophies they are the same.
"Definitely. In that we are twins," said Guardiola when asked if he was as obsessed with winning as Mourinho.
"They want to win trophies, we want to win trophies. I think (Chelsea boss) Antonio Conte is the same as well, and (Liverpool manager) Jurgen Klopp and (Tottenham boss) Mauricio Pochettino, and in all the leagues around the world, the managers are like that."
'A special match'
United are unbeaten in their last 40 competitive games at home, equalling the club record set in March 1966 under manager Matt Busby.
And while Mourinho's focus is, like Guardiola's, only on collecting three more points, he is well aware the fixture is a massive one for football fans in Manchester.
The Portuguese coach said: "For us, in the end, it's three points but honestly, I think for the people born in the city and feeling the colours, it's a good positive rivalry and a special match.
"For me, it's one more big match against one of the best teams in the country.
"We are a better team than last year. I think City is also better than last season."