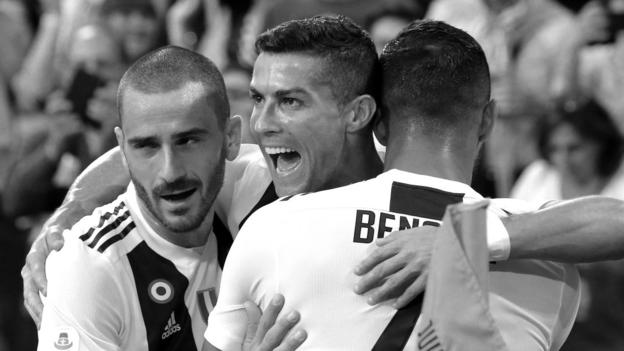 Manchester United and Juventus are two of football's biggest names.
A total of 54 domestic league titles, 25 domestic cups and 11 European trophies between them, they meet at Old Trafford on Tuesday and the Allianz Stadium on 7 November in back-to-back Champions League group-phase matches.
Their historic rivalry includes the 1999 Champions League semi-final, when Sir Alex Ferguson's side came back to win from two goals down in the second leg in Turin. Their last meeting, in 2003, was one of United's finest away performances, including a brilliant Ryan Giggs solo goal in a 3-0 victory.
Then there's the added interest around Juventus' £99m signing Cristiano Ronaldo returning to the club at which he first achieved world renown.
"It is always a very important event to play against Manchester United," former Czech Republic midfielder Pavel Nedved, a former Juventus player and now a club vice-chairman, told BBC Sport. "This is going to be a fantastic match."
And fascinating. It is a fixture where European dreams, a financial chase and a returning star all come into play.
Juve's Champions League ambition strengthens
Juventus have won seven successive Italian titles and four domestic doubles in a row, and no-one in the current squad wants to be part of a Juve team that fails to win Serie A.
However, it is clear the club are focusing on Europe.
Pre-1999 and the Treble, Ferguson had used Juventus as the barometer for how his squad were growing in experience and always felt United had not won the European Cup often enough for a club of their size.
The same charge could be levelled at Juventus, however. The Turin side have only won the competition twice - as often as Nottingham Forest, Porto and Benfica - despite contesting nine finals, a figure exceeded only by Real Madrid, AC Milan and Bayern Munich.
The last time Juventus were champions of Europe was 22 years ago.
"Juventus makes no secret of the fact it wants to win the Champions League," said club ambassador David Trezeguet, who scored 138 goals in 245 appearances in his 10 seasons with Juve.
"It is still very early but we have played two and won two, so we are on the right track.
"This current team is in a very good place in its development."
How Juve hope to close the gap
In the most recent Deloitte 'rich list' published in January, Juventus were 10th. Their overall income was £240m lower than United's. Most of that was down to a vast disparity in commercial revenue - £279.5m compared to £98.3m.
Juventus admit Ronaldo's signing, while strengthening their squad, is also part of a push to close that financial gap.
The five-time Ballon d'Or winner is one of sport's most recognisable faces. It is why Juventus were willing to pay £99.2m for the Portuguese and give him a four-year contract, even though he is 33.
"We do not view this as a risk at all," said Giorgio Ricci, Juventus' chief revenue officer.
"Comparing the current global value of football and the global value of Ronaldo as a player, this could be considered the club's most important transfer.
"We believe it is possible to get near Manchester United's commercial revenue, otherwise we would not be here.
"In order for the global exposure of the club to grow, we have to perform well in European competition and the global distribution of Serie A needs to increase. We are pretty confident that will happen in the next few years."
How is Ronaldo's relationship with United?
Ronaldo returns to Old Trafford on Tuesday with rape allegations - which he strenuously denies - hanging over him.
He has dismissed as "fake news" accusations he raped Kathryn Mayorga at a Las Vegas hotel in 2009 and his lawyers say they will sue German magazine Der Spiegel, which originally reported the allegations.
Der Spiegel says it has "no reason" to doubt the authenticity of key documents used in its story.
As far as matters on the field are concerned, the expectation is that Ronaldo, who was so prolific for United between 2006 and 2009, will receive a positive reaction at Old Trafford more than nine years after he left to join Real Madrid.
And his relationship with the English club has remained positive.
Ronaldo arrived in Manchester for £12.2m from Sporting Lisbon in 2003 following an outstanding performance in a pre-season game played at the Portuguese club.
Mike Phelan, first-team manager at the time, recalled how the squad were sitting on a plane in Lisbon and the flight was delayed so talks could continue between United and Sporting.
"Players know players. After the game our players were talking about him. We were ready to leave for home and suddenly there was a delay," he said.
"The clubs were trying to sort out a permanent deal. He joined us that summer."
He scored 118 goals in 292 United appearances, yet the most prolific period from 2006 onwards, when Ronaldo scored 90 goals in the three seasons, began amid uncertainty.
When Ronaldo reacted with a wink to Wayne Rooney's dismissal in the 2006 World Cup quarter-final between England and Portugal, even some United fans felt it was time to cut the forward loose.
Ferguson had other ideas. Together with his assistant Carlos Queiroz, Ronaldo's fellow Portuguese who had become a father figure to the player, and chief executive David Gill, he flew to meet Ronaldo and his agent Jorge Mendes.
Ferguson told Ronaldo he was going nowhere, explaining that if he stayed, Manchester United could finish developing him into the player he would eventually become. In a different room, Gill said the same to Mendes, who agreed.
Rooney, Ronaldo was told, shared the same immense desire to win things. It was in both of their interests to put the saga behind them and move on.
"There was a lot of noise," said one source with knowledge of what happened at that meeting. "But it never entered our head to let him go. It was an easy path to follow."
In 2008 strong rumours of interest from Real Madrid began to emerge and, again, Ferguson found the solution.
The Scot knew, as did most of the United hierarchy, that it would be impossible to deny Ronaldo the move he wanted forever, so Ferguson used it as a bargaining chip, telling Ronaldo the club couldn't let him go now, but give them one more year and it could be reassessed.
Ronaldo trusted Ferguson, as he still does today. Not for the first time, he did as he was asked.
In the background, United were protecting their asset by working on a deal that ended with Real paying a then world record £80m up front.
That Ronaldo returns to Old Trafford having never said anything bad about his time there, or Ferguson, is proof his old club had been as good as their word.