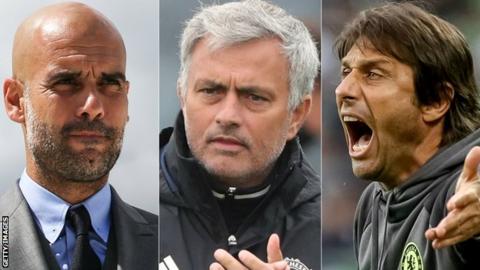 Seven Premier League clubs will start the season with new managers, four of whom have no experience of English football.
So what can we expect from them? And what do their previous managerial roles tell us about the impact they will have?
Pep Guardiola (Man City): A focus on attack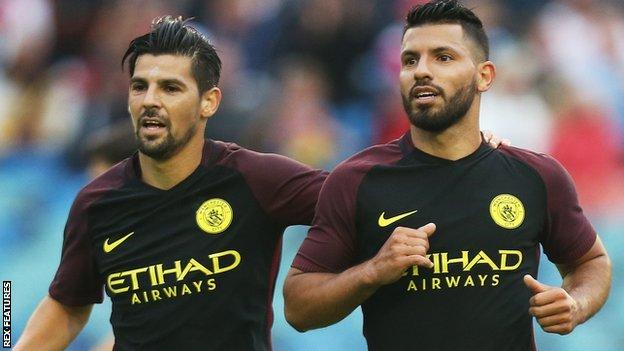 If there is one criticism aimed at Manchester City's new manager, it is that he inherited successful teams at Barcelona and Bayern Munich and little work was needed to make them into title winners during his tenure.
However, while he arrived after a treble-winning season at Bayern Munich three years ago, the Barcelona side Guardiola took charge of in 2008 had won nothing the previous year, had lost nine times in the league and finished third.
In Manchester City, he finds himself at a club in a similar position. The English side finished fourth in the Premier League last season, lost 10 times and, like Barcelona in 2007-08, were knocked out in the Champions League semi-finals.
The season before Guardiola's arrival
Club
Season
P
W
D
L
F
A
Pts
Pos
Barcelona
2007-08
38
19
10
9
76
43
67
3rd
Man City
2015-16
38
19
9
10
71
41
66
4th
There is work to be done, just as there was at the Nou Camp eight years ago. So what will the man considered by many to be the world's finest coach focus on at Etihad Stadium?
Manchester City were the top scorers in the Premier League last season but had only the fifth best goals-against record, leading many to believe it is their defence that is Guardiola's main priority.
But he won the league title in his first season at Barcelona by significantly improving the side's goalscoring record (an increase in league goals of 38%), winning in the same free-scoring style that saw City lift the Premier League trophy under his predecessor Manuel Pellegrini two years ago.
Guardiola did pay Everton £47.5m for England defender John Stones on Tuesday, but he is City's only defensive reinforcement - and they have spent more than £70m on attackers Leroy Sane, Nolito and Gabriel Jesus. So, expect plenty of goals at the Etihad this season.
Spot any similarities? Guardiola's first Barca season v Pellegrini's first year at Man City
Club
Season
P
W
D
L
F
A
Pts
Pos
Barcelona
2008-09
38
27
6
5
105
35
87
1st
Man City
2013-14
38
27
5
6
102
37
86
1st
Play our new Premier League Predictor game
Antonio Conte (Chelsea): Solutions to defensive problems
The new Chelsea manager has experience of reviving a fallen giant after taking over Juventus in 2011 following the fallout from the Calciopoli match-fixing scandal.
He lifted them from seventh in the season before his arrival to three successive titles. He joins a Chelsea side who made such a hash of their title defence last season that they finished 10th.
Only eight teams conceded more than Chelsea's 53 goals, an anomaly for a club so used to a strong defensive base built around captain John Terry.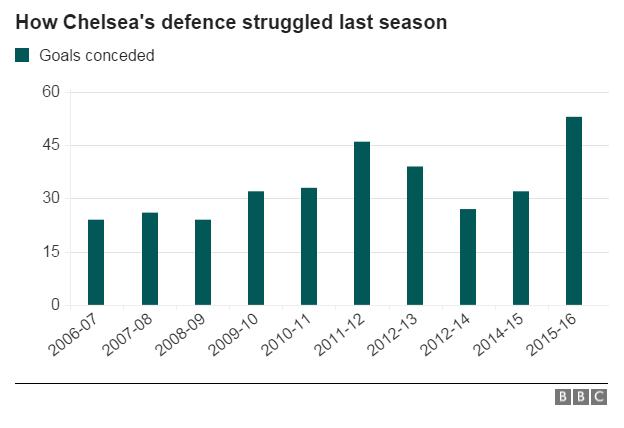 And if resolving their defensive issues is a priority, they have just the man in Antonio Conte, whose arrival in 2011-12 ended Juve's nine-year wait for a title.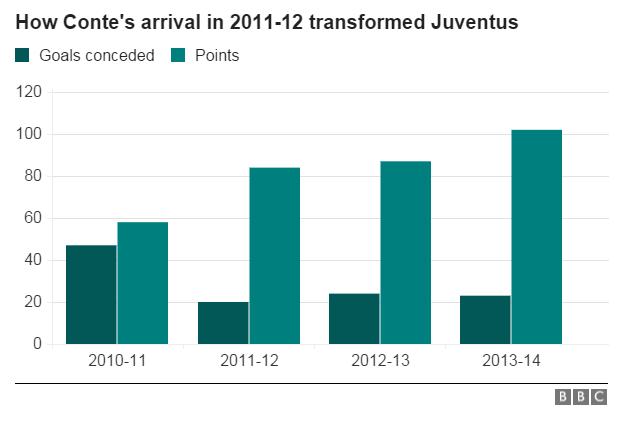 However, he will have to achieve it without the experienced unit of goalkeeper Gianluigi Buffon and 'the BBC' - defenders Andrea Barzagli, Leonardo Bonucci and Giorgio Chiellini - which he inherited both at Juventus and with Italy.
That focus on defensive solidity continued this summer, with Conte's Italy conceding twice in five matches at Euro 2016.
Jose Mourinho (Man Utd): A 'guaranteed' title win in second season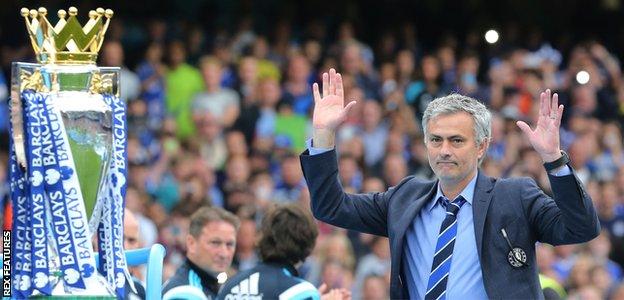 History suggests the appointment of Jose Mourinho as their club's new manager could be both good news and bad news for Manchester United fans.
The good news is there is no surer guarantee of being Premier League champions in one of the next two seasons than appointing the Portuguese, with success in his second year a common theme from every club he has been at.
Jose Mourinho's record: Instant impact, lack of longevity
Club
First season
Second season
Third season
Fourth season
Porto
Champions
Champions
-
-
Chelsea
Champions
Champions
Runners-up
-
Inter Milan
Champions
Champions
-
-
Real Madrid
Runners-up
Champions
Runners-up
-
Chelsea
Third
Champions
-
-
The bad news is what might happen after that. Just ask Chelsea fans. And don't expect him to still be at Old Trafford for a fourth season.
My Manchester United XI
How do you think Man Utd should line-up for the 2016/17 season? Pick your XI - and then share it with your friends.