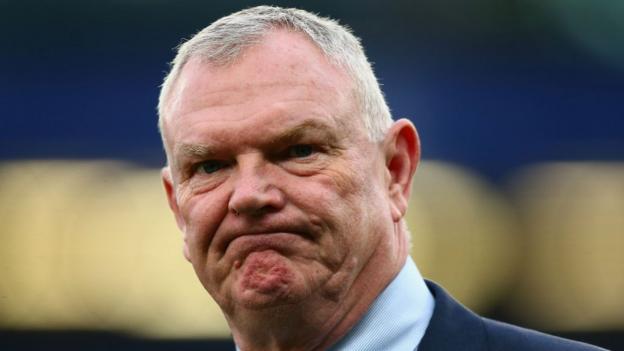 The Football Association has "lost the trust of the public" over its handling of discrimination claims against ex-England women's manager Mark Sampson, says chairman Greg Clarke.
An independent barrister ruled Sampson made unacceptable comments to players Eniola Aluko and Drew Spence.
The FA was described as "shambolic" at a parliamentary inquiry this month.
Clarke said: "We failed. What the last few weeks have exposed is how out of step we are."
In a speech to the FA council, he said: "Even when our endeavours and attitudes are well meant we fall short.
"Let me be clear why this is a problem. We have lost the trust of the public, the trust of the football participating community and the trust of those domestic and international partners we need to do our job.
"This is not my assertion - the evidence is there. Our own insight tracking shows that only 27% of football fans think we are competent and even less, 24%, have a positive perception of the FA.
"We do need that trust - it is the bedrock of everything we should be about."
Aluko, who has won 102 caps for England, said the FA was "dismissive" when she first claimed Sampson told her to make sure her Nigerian relatives did not bring the Ebola virus to the friendly against Germany at Wembley in 2014.
The Chelsea striker, 30, said she felt "vindicated and relieved" by the barrister's ruling but accused English football's governing body of behaviour "bordering on blackmail" and an agenda to protect Sampson and its own reputation.
Sampson denied that claim, along with another allegation that he asked a mixed-race player - Chelsea midfielder Drew Spence - if she had been arrested before, and then jokingly suggested she had been arrested four times.
After the parliamentary hearing, the FA apologised to Aluko and Spence and said it was "not acceptable" that they had been subjected to discriminatory remarks from an FA employee.
Sampson was sacked in September following evidence of "inappropriate and unacceptable" behaviour with female players in a previous role.