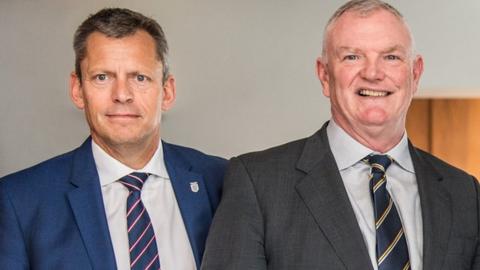 The FA has been accused of ignoring issues raised by discriminatory race remarks made by sacked England women's boss Mark Sampson.
Professional Footballers' Association chief Gordon Taylor made the comments after his own organisation was criticised by FA chairman Greg Clarke.
Taylor said English football's governing body had not taken on board the concerns of forward Eniola Aluko.
"They didn't listen to her then. They're still not listening," he said.
The FA apologised on Wednesday to Aluko and Chelsea and England team-mate Drew Spence for Sampson's remarks as a reopened investigation into their complaints was published.
But the organisation was subsequently described as "shambolic" as FA bosses faced difficult questions during a four-hour parliamentary inquiry.
Giving evidence, FA chairman Clarke said he had a "fundamental problem" with the governance at the top of players' organisation the PFA.
He said: "The PFA spends millions of pounds a year on the CEO's salary and pension and they are walking away from alcoholics, from addicted gamblers. I will never look up to their governance, though I respect their people."
But Taylor told BBC Sport that was an attempt to deflect criticism and "was so unprofessional it was amazing".
He said Clarke had "burned bridges" between the organisations and added: "We don't need any lectures from the FA on good governance."
More to follow.