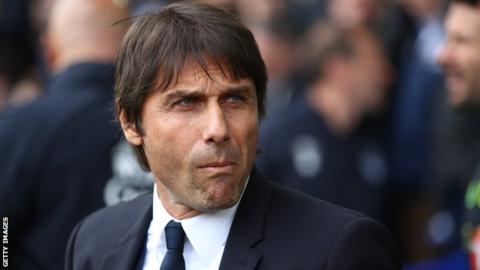 Chelsea manager Antonio Conte thinks it is difficult for English clubs to succeed in Europe because of the strength of the Premier League.
The Italian is aiming to win the league and FA Cup double in his first season.
Unlike some of their rivals, Chelsea have not been involved in Europe.
Conte said: "This league is very difficult. Every single game you must fight a lot and, I think, also for this reason it's not easy to arrive at the end of a European competition."
In the past six years, five English clubs have reached the quarter-finals of the Champions League, compared to 17 from Spain and 10 in Germany.
Chelsea, who host Middlesbrough on Monday (20:00 BST), are two wins away from taking the Premier League title after second-place Tottenham lost at West Ham Friday.
Spurs are close to guaranteeing a top-two finish, which means the two remaining Champions League places will go to Manchester City, Liverpool, Manchester United or Arsenal.
If United win the Europa League, they will automatically qualify for the Champions League. There will be five English teams in the competition next season if United finish outside the top four in the Premier League.
Manchester City manager Pep Guardiola echoed Conte's thoughts on the strength of the Premier League, saying after his side's 5-0 win over Crystal Palace: "There is not another competition in the world with six strong teams fighting for one position - not in Spain nor Germany.
"It is so clear that here, every season will be tougher and tougher to qualify for the Champions League."
Conte is seeking to emulate compatriot Carlo Ancelotti by winning the double with the Blues in his first season in charge.
Ancelotti is one of three Italian managers to win the Premier League (2009-10) in recent seasons, alongside Roberto Mancini at Manchester City (2011-12) and Claudio Ranieri at Leicester (2015-16).
"I looked at the past and saw many Italian managers won the title in England," added Conte.
"Last season I supported a lot Claudio Ranieri to win the title. In Italy we celebrated this win in a great way. I think Claudio deserved this for his career."