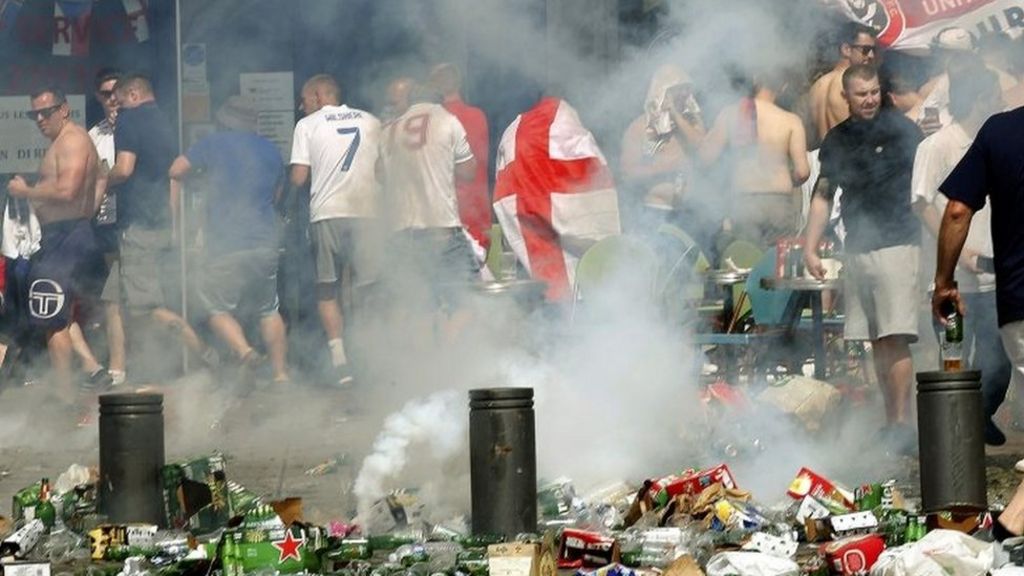 England fans have been embroiled in fresh clashes with police and rival supporters in Marseille ahead of the team's opening match of Euro 2016.
The latest violence follows two nights of trouble in the coastal city when police used tear gas to control crowds.
Videos from the scene on Saturday have shown fans being treated for injuries.
Earlier, shadow home secretary Andy Burnham described the behaviour of England fans as "embarrassing" in light of the terrorism threat to France.
BBC News correspondent Nick Eardley, who is at the scene, said bottles were being thrown "every couple of minutes" and described the situation as "pretty terrifying", as fans also fought with Russian supporters.
He said he had witnessed bloodied England fans being "dragged away by police", to the sound of sirens blaring out across the city's main square.
Local police chief Laurent Nunez told AFP news agency: "Police intervened in a clash between English, Russian and French supporters in the Vieux-Port district."
Some British journalists in the area have described the shocking scenes on social media, and pointed the finger at a gang of black-clad Russian hooligans, who they said had entered the port city's main square from a side street seeking violence.
Fans are in the southern port city ahead of England's game against Russia at the Stade Velodrome, which kicks off at 20:00 BST. The team's following two matches – against Wales on Thursday and Slovakia on 20 June – will be played in Lens and St Etienne.
Meanwhile, Gary Lineker tweeted: "The trouble in Marseilles is utterly sickening."
Earlier, Mr Burnham said England fans had been "let down by a minority", who may have been provoked but were "not blameless" over the first two nights' violence.
In a series of tweets, Labour's Mr Burnham said when the terror threat in France was taken into account, it made the "behaviour of these England 'fans' even more embarrassing".
Chris Slegg, a BBC London reporter on holiday in Marseille for the football, said he had been at a bar with friends and other fans on Friday night, watching France's game against Romania, and the atmosphere had been friendly.
However, shortly after the match finished, a group of 20 to 30 French youths had emerged from side streets and thrown firecrackers and bottles at people who had been watching the game outside the bar, he said. The incident had been completely unprovoked, he said.
Style of policing
Dave Tomlinson, from the Football Supporters' Federation, who is in Marseille, told the BBC it had been "disappointing to see any problems" involving England supporters.
"We understand from the reports that it's a very small minority of England fans that have been involved," he said.
"We also understand that unfortunately there has been quite a lot of provocation from the French and also the Russian elements that are in the area."
He also said the style of policing was "a little bit different" from what England fans would be used to.
"The first option at the moment seems to be that the French police are going to put tear gas in the areas where there are potentially going to be problems."
BBC 5 live sports presenter George Riley said a group of England fans on Friday night appeared to be goading either the police or locals in the area.
He said the group he had seen gathering on Friday evening appeared "quite menacing", which prompted the 5 live team to leave.
This was outside a pub in the same area that had been affected on Thursday by trouble which had continued well into the early hours of Friday.
One England fan and one local man had been arrested in the early hours of Friday after police moved in with tear gas.
On Thursday four French policemen were injured as they moved in on England fans, news website France Bleu reported. Many of the fans had been drunk, it said.
Welsh fans are also in France and their first game of the competition takes place against Slovakia at 17:00 BST at the Nouveau Stade de Bordeaux.
---
Are you a football fan in Marseille for the Euro 2016 championships? Let us know how you are finding it by emailing haveyoursay@bbc.co.uk.
If you are willing to speak further to a BBC journalist, please include a contact telephone number.
Email your pictures to yourpics@bbc.co.uk, upload them here, tweet them to @BBC_HaveYourSay or text 61124. If you are outside the UK, send them to the international number +44 7624 800 100.
Read our terms and conditions.
itish