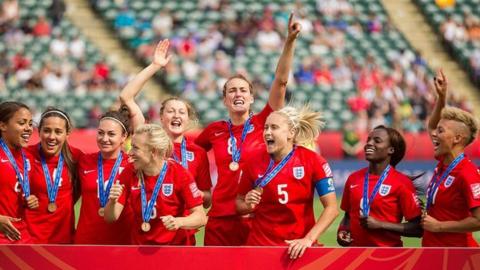 The English Football Association plans to put together a British women's team for the Tokyo Olympics in 2020.
Great Britain did not field a team in Rio last summer because the four home nation football associations could not come to an agreement.
But FA chief executive Martin Glenn says talks have taken place about entering a team in three years' time.
"They're not going to actively support us, but they're not going to stand in the way," he told BBC Sport.
"We've worked really hard with the other home nations to get them behind the idea that a British team would be good for football both in England but also in Scotland, Wales and Northern Ireland.
"We were very disappointed that for the Brazil Olympics we couldn't put in a British team because, for women's football, Olympic tournaments are disproportionately important compared to men's football."
England's FA had put forward the idea of sending Great Britain teams to the 2016 Olympics, but Fifa said it would need the agreement of all the ruling bodies.
Stewart Regan, the Scottish FA's chief executive, was among those to voice concerns that a Great Britain team could impact the home nations at future international tournaments such as World Cups.
In April, chief executive of the Football Association of Wales, Jonathan Ford, said he could now see the "merits" of a GB women's football team.
England's women, led by Mark Sampson, won a bronze medal at the 2015 World Cup and earlier this month reached the semi-finals of Euro 2017.
Glenn says the strength in depth through the nations could be key to further success.
"We would want to pick from the best of British talent and there's a number from nations outside of England and we know that would be good for the game."
Team GB entered men's and women's sides at London 2012, organised by the English FA.
Stuart Pearce took charge of the men and Hope Powell coached the women, with both teams being knocked out in the quarter-finals.