England's Under-17 World Cup victory reflects the "good work" being done in youth development and provides further proof it is heading "where we want to go", says manager Steve Cooper.
Saturday's win over Spain secured England's third major youth title of 2017, after the Under-20 World Cup and the Under-19 European Championship.
England trailed Spain 2-0 after 31 minutes but came back to triumph 5-2.
"We've played like we want all of our England teams to play," Cooper said.
"Brave on the ball, pass, pass, pass, not one long ball, get into good areas, play as a team and some good individual play up the field as well.
"I am just so proud of the performance. We played our way back in, and stuck to our style. We are building for the future, and that is the way to do it."
Spain had beaten England's Under-17s in the European Championship final in May, but goals from Morgan Gibbs-White, Marc Guehi, tournament top scorer Rhian Brewster and player of the tournament Phil Foden replied to Barcelona forward Sergio Gomez's double in Calcutta.
The Three Lions had never before progressed beyond the quarter-finals in the tournament and Cooper said the result "tells you everything about the character of the English players".
He told the FA's website: "This trophy is a dedication to the good work being done back in England with the club academies and the development of young players.
"For me, it's recognition of where English football not just is, but where it can go and where we want it to go.
"The feeling is… I'm speechless. It's a little bit surreal and I think I'll feel a little bit better tomorrow when we actually realise what we've done."
England's golden year at youth level
19 May: England lose to Spain on penalties in the European Under-17 Championship final
10 June: England win a second successive Toulon Tournament, with victory on penalties
11 June: England beat Venezuela 1-0 in the Under-20 World Cup final
27 June: England lose to Germany on penalties in the European Under-21 Championship semi-finals
15 July: England win the European Under-19 Championship, beating Portugal 2-1
28 October: England are crowned Under-17 World Cup winners after beating Spain 5-2
The next Fabregas? Or Anderson?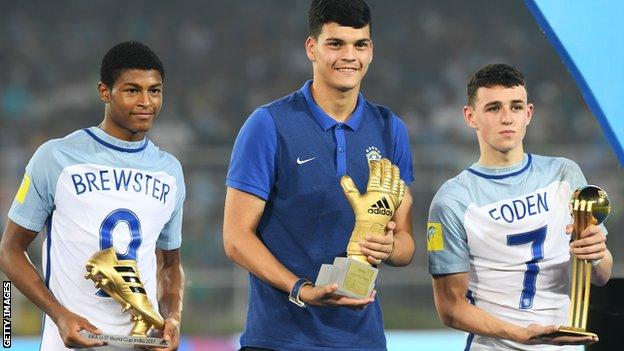 Manchester City midfielder Foden, 17, said: "We knew we were capable of coming back, we just decided to stay calm. We didn't get off to the best of starts but at half-time we got together and came out fighting. You've seen that in the second half."
Under-17 World Cup Golden Ball winners
1999
Landon Donavan (United States)
2001
Florent Sinama Pongolle (France)
2003
Cesc Fabregas (Spain)
2005
Anderson (Brazil)
2007
Toni Kroos (Germany)
2009
Sani Emmanuel (Nigeria)
2011
Julio Gomez (Mexico)
2013
Kelechi Iheanacho (Nigeria)
2015
Kelechi Nwakali (Nigeria)
2017
Phil Foden (England)
When City manager Pep Guardiola was told of Foden's success after his side's 3-2 Premier League win at West Brom, he said: "What position did he play? When I find out, I will put him in that position."
The Spaniard added: "He is a young player. He is a player in our squad. Every day he is in the locker room with our guys. That is the best way to learn, from the experienced guys, about what it means to be at a high level.
"Big congratulations to the manager, all the staff and the players, because for English football, they need that.
"It is the step they need. It happened in Spain. Spain was always only the last 16, quarter-finals. They arrived one moment in the semi-finals and since then they have won every time. That's why it is so important. Finally win. Big congratulations."
Reaction
Wayne Rooney: Yessss!!! Congratulations to all involved. Been class throughout the tournament ??
David Beckham: Our future is bright, congratulations to the boys, staff and families. What an amazing achievement - let's now build for the future and give this talented group the opportunity.
Harry Kane: Congrats to the U17s - a fantastic achievement!
Michael Owen: Our young lions triumph again. Brilliant achievement and once again, just goes to show we produce top class young talent. Well done lads.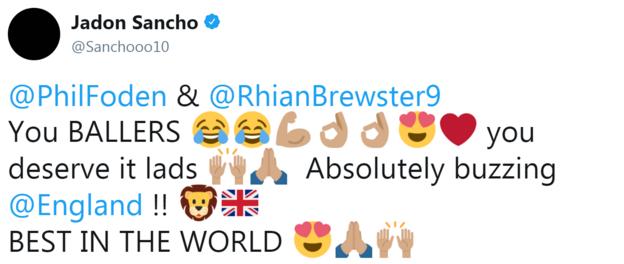 Match of the Day commentator Guy Mowbray: Showed Pep Guardiola Phil Foden's goal that made it 3-2 England - he visibly beamed when then talking about him.
Gary Lineker: England have won the U17 World Cup after beating Spain 5-2… yes Spain. We have a new golden generation. Well played boys, well played.
Your comments on #bbcfootball, 81111 via text
Jan Noble: Sack the seniors and send this lot to Russia in the summer.
Setay: Foden, what a player he is, think in about three more years he will be a world star.
Nigel Harradence: Hopefully these England lads will be given an opportunity in the Premier League now. Proved they are good enough.
Emily: I hope the England full team watched the fight and heart by the U17 team.
Analysis
Ex-England defender Danny Mills
The players have to go on and build on this - make sure this is not the pinnacle of their careers. They want to be Premier League and England stars of the future. They have proved they are winners. Hopefully managers will see they can cope with pressure to win matches.
The goal before half-time was crucial. It gave them fresh legs, and they had a real go at Spain. Foden was exceptional, and is an absolute talent. They got behind the Spanish defence like we wanted them to. We often talk about England's mentality, they looked down but they played with freedom and expressed themselves.
We have two World Cup-winning teams - this is unprecedented! It needs to be celebrated more.
New England Under-19 manager Paul Simpson, who led the Under-20s to World Cup victory in June.
It was a magnificent, spirited performance. They thoroughly deserved this emphatic victory. We talk about that English bulldog spirit and we got that, but we had ability as well. There was an incredible work ethic, really good goals, and they showed such resilience to come back from two goals down.
We have got a top group of players right through the set-up. But we are also fully aware that these are the development teams. What we want to do is keep improving so that the senior team can be successful.
The only way we can do it is by working with the clubs and hoping that as a whole game we can come together with one goal - to have a successful English national team.
Everybody can take belief from what they've seen. Hopefully this is just the start.