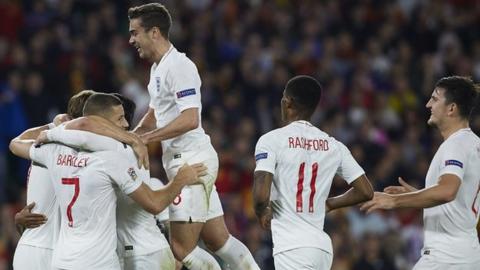 England have moved up to fifth in Fifa's latest world rankings, their highest position for five years.
Belgium are now the outright number one side in the world, having previously been tied at the top with France, who slipped to second.
Wales move up a place to 18th, but there are drops for the Republic of Ireland and Northern Ireland who are now 33rd and 34th respectively.
Alex McLeish's Scotland fall a place to 40th following two successive defeats.
England's one-place climb comes following their first win in Spain for 31 years, the 3-2 Uefa Nations League win earlier in October.
Germany continue to struggle, falling two places to 14th following losses to the Netherlands and France.
Colombia are the biggest climbers in the top 20, moving three places higher to 11th and overtaking Argentina in the process.
In June, Fifa announced it was using a new method named "SUM" to work out countries' rankings.
The new system works by adding and subtracting points for victories and defeats whereas the previous iteration calculated a rolling average for each country.
Fifa world rankings
1.
Belgium
2.
France
3.
Brazil
4.
Croatia
5.
England
6.
Uruguay
7.
Portugal
8.
Switzerland
9.
Spain
10.
Denmark
18.
Wales
33.
Republic of Ireland
34.
Northern Ireland
40.
Scotland