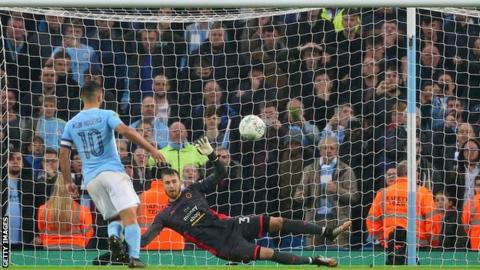 The EFL has defended the ball used in the Carabao Cup after criticism from Manchester City boss Pep Guardiola.
Guardiola said it was "impossible" to score after his side's fourth-round win over Championship leaders Wolves on penalties on Tuesday.
The ball used in the tournament is manufactured by Mitre.
"The entertainment provided across last night's ties would suggest that the ball is not having a negative impact," read an EFL statement.
Sergio Aguero, who is one goal away from becoming City's all-time leading scorer, missed several chances from open play.
He scored City's final penalty in a 4-1 shootout win, the game having finished 0-0 after extra-time.
"If we played with a different ball he would break the record," said Guardiola. "To score with that ball is a miracle.
"It's not Nike, Adidas I don't know, it's a different brand. It's unacceptable to play with the ball."
Nike balls is used in the Premier League, while Adidas balls are used in the Champions League.
"It is not a serious ball for a professional game," said Guardiola. "I can say that after we win. If we don't win and I say that it is an excuse.
"We get one day or two days [to use it in training] but if a ball is bad it is bad two days, one week, one month, one year, two years. If it is bad, it is bad."
The EFL statement continued: "The Mitre ball used in this season's Carabao Cup is of exactly the same technical specification as the balls used in the Sky Bet EFL and Checkatrade Trophy, all of which are tested in accordance with the FIFA Quality Programme for Footballs and meet the FIFA Quality Pro standard.
"All balls used in the professional game are required to meet this standard.
"We will look to engage with Mr Guardiola and Manchester City to fully understand any concerns in advance of their round five tie."
The draw for the quarter-finals will be made on Thursday at 16:00 BST.