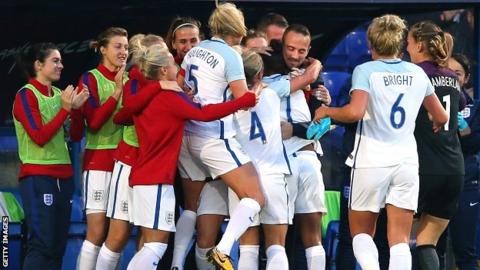 Football Association technical director Dan Ashworth told the England women's team that Mark Sampson was innocent of racism allegations in a speech before last month's match against Russia, BBC Sport understands.
His pre-match address was before the 6-0 win in their World Cup qualifier, when the players ran to celebrate with Sampson after the first goal.
Head coach Sampson was sacked the next day for "inappropriate and unacceptable behaviour" while at his previous job with Bristol Academy.
Some England players are understood to feel let down by Ashworth after Sampson was later found to have made racially discriminatory comments towards Eniola Aluko and Drew Spence, claims he has denied.
Addressing the players, Ashworth is said to have backed Sampson and underlined that he had been cleared by two investigations, even though it had already been reported that a new inquiry was under way after new evidence was presented to independent barrister Katherine Newton.
The FA, who apologised to Aluko and Spence last Wednesday after upholding their claims, said it would not comment on private meetings.
Aluko and fellow players Lianne Sanderson and Anita Asante were critical of players who ran over to hug Sampson following Nikita Parris' opening goal in the 6-0 victory at Tranmere's Prenton Park.
Since then midfielder Jill Scott has said the players should not be condemned for the public gesture of support for the Welshman, describing it as a "heartfelt response".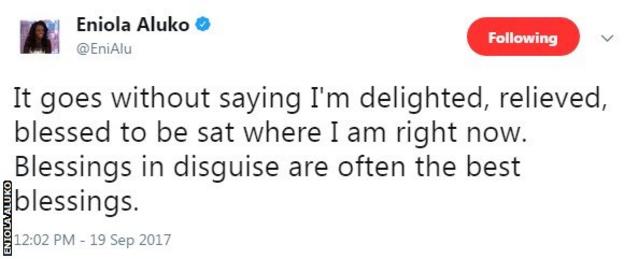 Ashworth had led an internal inquiry into the case, which was described as "not a genuine search for the truth" by the Professional Footballers' Association, with the under-fire director alleged to have offered evidence to his own investigation.
On Sunday, former FA board member Dame Heather Rabbatts called Ashworth's position "untenable" after claims by Women in Football the FA did not do due diligence when Sampson was appointed in 2013, and failed to properly investigate the manager in 2014 when a safeguarding report was brought to his attention.
Speaking at the Department of Digital, Culture, Media and Sport select committee hearing into the FA's handling of the case last Wednesday, Ashworth admitted he should have "asked for more detail".
Despite those errors, FA head of women's football Baroness Sue Campbell told the BBC on Friday that Ashworth would help choose Sampson's replacement, to which Rabbatts added: "So when the FA say things are going to change - what is going to change?"